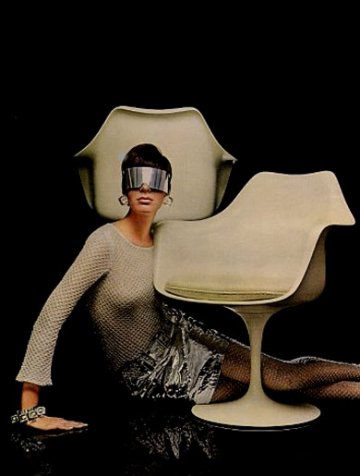 Eero Saarinen
Back to the Future...
Donald Albrecht, December 25, 2010
Eero Saarinen_Portrait_Helsinki_Finland
Eero Saarinen: Shaping the Future was a unique comprehensive project exploring the work of one of the most prolific, unorthodox, and controversial masters of 20th-century architecture. The project examined the architect's wide-ranging career from the 1930s through the early 1960s. Saarinen's international array of buildings had featured, as well as his path breaking designs for furniture and his master plans for civic centers and universities. The journey featured full-scale building mock-ups, never-before-seen drawings, models, photographs, films, and ephemera. An international consortium of Finnish and American scholars and curators has been assembled to bring different perspectives to Saarinen's work and to identify resonance between mid-century culture and that of today. The emphasis was the global relevance of Saarinen's work. Focusing on the stylistic plurality of Saarinen's output and the collaborative nature of his practice - themes that resonate with today's design preoccupations. The journey presents a timely and critical view of a formative era of American modernism that continues to shape contemporary culture.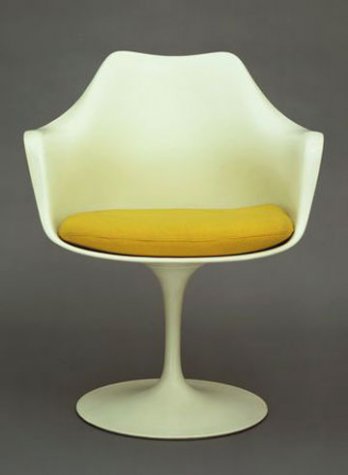 Eero Saarinen_Tulipe Chair_Helsinki_Finland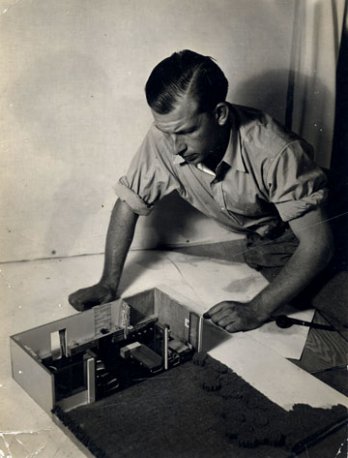 Eero Saarinen with A Combined Living-Dining-Room-Study project Model, Circa 1937
Although his career was cut short by death at age 51 in 1961, Eero Saarinen was one of the most celebrated architects of his time, both at home and abroad. In the postwar decades of what has been called "the American Century," Saarinen helped create the international image of the United States with his designs for some of the most potent symbolic expressions of American identity: the 630-foot-tall, stainless-steel St. Louis Gateway Arch (1948-64) along the Mississippi River commemorating the nation's westward expansion; the aluminum-and-glass General Motors Technical Center (1948-56) outside Detroit, Michigan - hailed by contemporary critics as "an industrial Versailles"; and the TWA Terminal (1956-62) at New York's John F. Kennedy Airport, where swooping concrete vaults thrilled travelers with the glamour of international flight.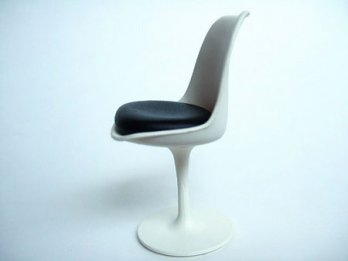 Eero Saarinen_Tulipe Chairs_Helsinki_Finland
Eero Saarinen_United States Jefferson National Exposition Memorial, Under construction, 1965_Arteaga Photos Ltd_Saint-Louis, Missouri_USA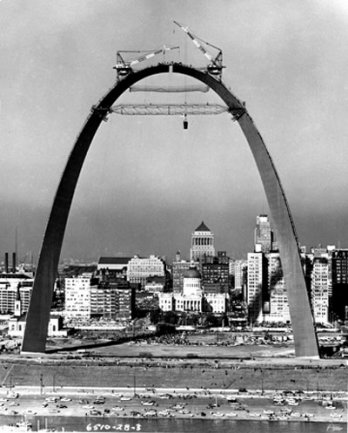 Eero Saarinen_United States Jefferson National Exposition Memorial, Under construction, 1965_Arteaga Photos Ltd_Saint-Louis, Missouri_USA
For these and other buildings, Saarinen rejected a single unifying style, preferring instead a diverse vocabulary inspired, he said, by each project's unique "site, program, and spirit." His multi-faceted oeuvre challenged the received orthodoxies of modern architecture. He advanced some of modernism's most revered precepts such as its emphasis on new building technologies while, at the same time, turning away from its minimalist principles and moving towards sculptural exuberance, metaphor, and historical precedent.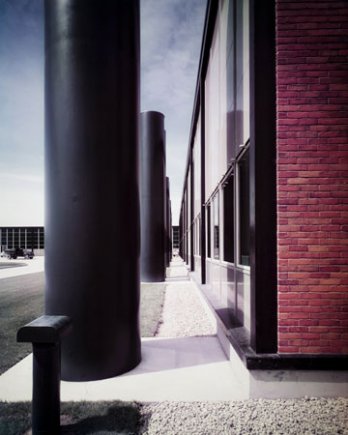 Eero Saarinen_General Motors Technical Center, 1948-56_Ezra Stoller_Warren, Michigan_USA
Saarinen's response to prestigious commissions from corporations such as General Motors, IBM, and CBS took the less-is-more aesthetic of Ludwig Mies van der Rohe in new and surprising directions. For GM he developed a bold color palette of exterior brick walls in tune with the latest model cars, and he clad the new corporate headquarters for Deere & Company (1957-63) of Moline, Illinois, in weathered Cor-Ten steel to evoke the ruggedness of the company's farm machinery. In contrast, the David S. Ingalls Rink (1953-59) at Yale and the Dulles International Airport Terminal (1958-62) outside Washington, D.C., identified Saarinen as a structural virtuoso of dynamic forms. The architect's 1958 pedestal chairs and tables for Knoll International tended towards organic, space-age shapes.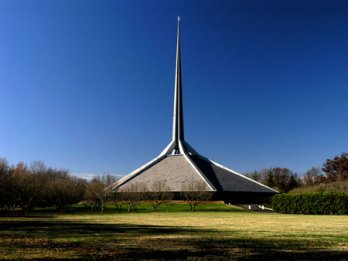 Eero Saarinen_North Christian Church_USA
In contrast, his round brick Kresge Chapel (1953-56) for the Massachusetts Institute of Technology and Yale's concrete-and-stone Morse and Stiles Colleges (1958-62) were frankly historicist, deferring to their time-honored university settings by drawing on images, respectively, of ancient grottos and Italian hill towns.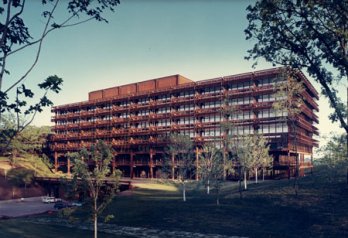 Eero Saarinen_Deere and Company Administrative Center, Circa 1963_Harold Corsini_Moline, Illinois_USA
Saarinen's stylistic range came to represent the postwar American ideal of an open-ended society of unbounded choice and diversity. Key to the successful projection of this ideal were Saarinen's visionary clients - businessmen like IBM's Thomas J. Watson and CBS's Frank Stanton who presided over the development of progressive technologies like computers and television. Saarinen, working in close collaboration with his clients, deployed equally progressive construction and mechanical systems for new office buildings set in bucolic corporate parks. At the same time, Saarinen himself embodied the free and creative individualist. Together, Saarinen and his work represented the image of capitalist America, ever new and dynamic and in full control of its domain.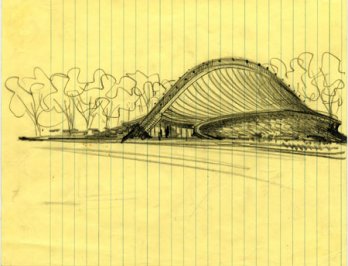 Eero Saarinen_Sketch of David S. Ingalls, Hockey Rink, Circa 1953_New Haven, Connecticut_USA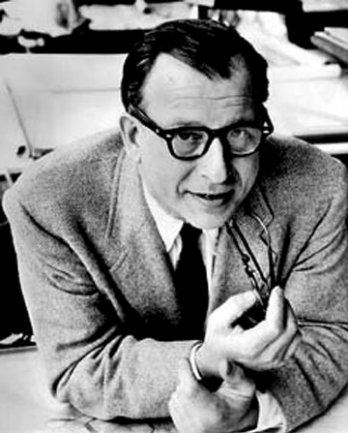 Eero Saarinen_Portrait_Helsinki_Finland
Saarinen was also completely conversant with modern American media, garnering huge press coverage and presaging today's celebrity architect of signature buildings. Popular magazines such as Vogue, Playboy, The New York Times Magazine, and Time, which put the architect on its cover in 1956, heralded him as the most important architect of his era, both in terms of career success and artistic genius.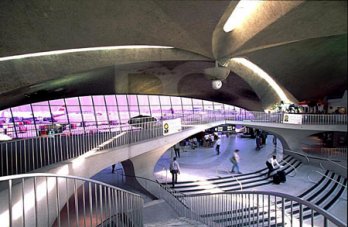 Eero Saarinen_TWA_New York International (now JFK International), Circa 1962_Balthazar Korab_New York_USA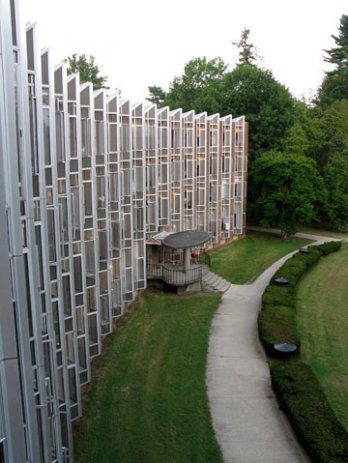 Eero Saarinen_Noyes House_USA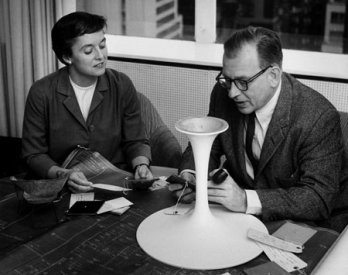 Eero Saarinen and Florence Knoll_Bassett_New York_USA
At the same time and continuing after his death, leading critics such as Vincent Scully questioned Saarinen's commitment to the egalitarian ideals of the modern movement, his disregard for the urban fabric that surrounded his sculptural masterpieces, and his aesthetic inconsistency. Another leading critic, Manfredo Tafuri, cited Saarinen as a prime example of postwar American modernists who commercialized the socialist ideals of the European modern movement, and then tried to invest contemporary buildings with meaning, especially by emphasizing symbolic form over structural logic. To date, Saarinen's work has received uneven attention in the architectural press, and most important surveys of 20
th
century architecture reduce his contribution to a few well-known projects.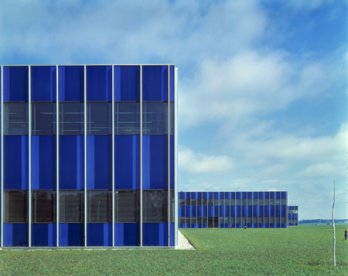 Eero Saarinen_IBM Manufacturing and training facility, Circa 1958_Balthazar Korab_Rochester, Minesota_USA
By exploring more than 50 of the architect's built and proposed projects, Eero Saarinen: Shaping the Future is the first opportunity to understand Saarinen's collective work in the larger arena of postwar modern architecture.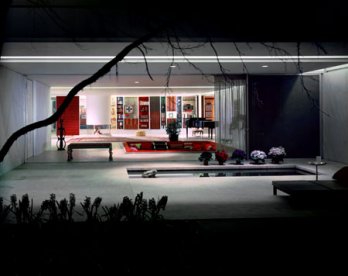 Eero Saarinen_Miller House, Circa 1957_Ezra Stoller_Indiana_USA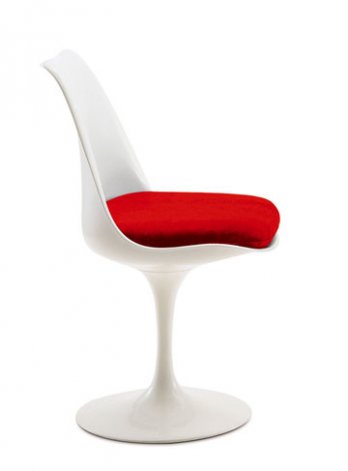 Eero Saarinen_Tulipe Chair_Helsinki_Finland
The Architect and His Milieu: Audience
Visitors will enter the exhibition via a gallery demonstrating a key theme of the show: Saarinen's embrace of the media and vice versa. Here visitors will be surrounded by an extraordinary graphic installation combining magazine covers, corporate brochures, advertisements, and television clips. In an age of mass communication, Saarinen was extremely savvy about the media and its role in attracting the attention of potential clients and the general public. Saarinen understood the publicity value of architecture and design competitions, winning such high-profile commissions as the St. Louis Gateway Arch in the late-1940s. When his career flowered in the 1950s, Saarinen became the darling of the international press. Uniting family and professional lives in the mid-1950s, the architect married Aline Bernstein Louchheim, author and associate art editor of The New York Times.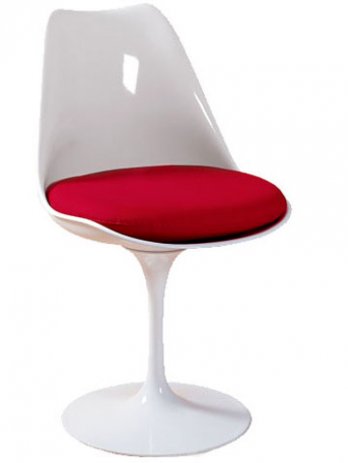 Eero Saarinen_Tulipe Chair_Helsinki_Finland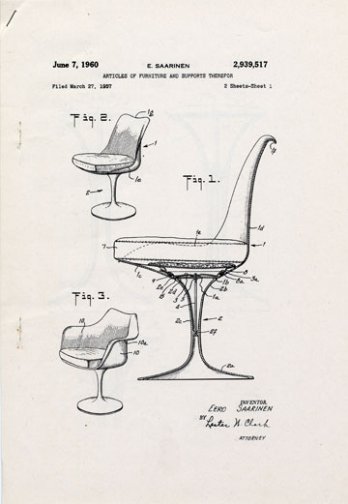 Eero Saarinen_Patent drawing for pedestal Chairs, June 7, 1960_USA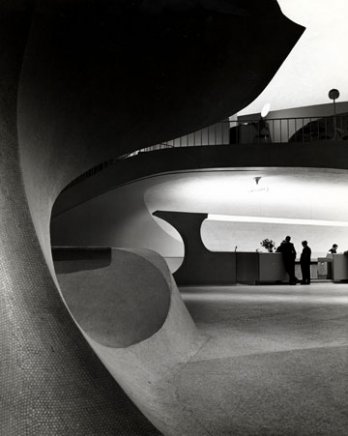 Eero Saarinen_TWA Terminal New York International (now JFK International), Circa 1962_Balthazar Korab_New York_USA
The Architect and His Milieu: Personal Life
This section introduce visitors to Eero Saarinen by offering biographical information. Born in 1910 and immigrating to the United States in the mid-1920s, Eero Saarinen began his career in partnership with his remarkably gifted family: his father, Eliel, architect of Helsinki's main train station and many other prominent residential, commercial, and government commissions; his mother Loja, sculptor, photographer, and textile designer; and his sister, Pipsan, an interior and furniture designer. Eliel's most important American commission was the Cranbrook Academy of Art in Bloomfield Hills, Michigan, a brilliant exemplar of his belief that architecture must address the aesthetics of whole environments, from landscapes to buildings and decorative objects.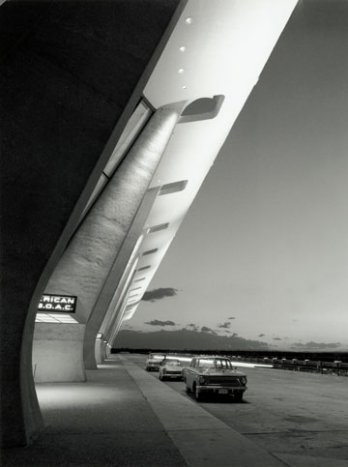 Eero Saarinen_Dulles International Airport Terminal, Circa 1963_Balthazar Korab_Chantilly, Virginia_USA
The entire Saarinen family worked on the campus's designs. This section of the exhibition focused on this formative project and Saarinen's relationship to his family, but also offered a fuller portrait of the person behind the famous buildings, looking at Saarinen's relationships with fellow Cranbrook figures such as Charles Eames and Florence Knoll; his architectural education at Yale University; and his marriages to Lily Swann and Aline Louchheim.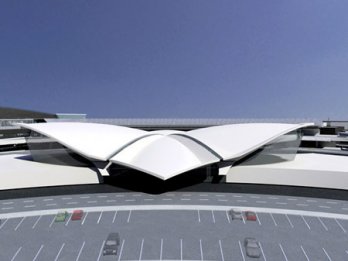 Eero Saarinen_TWA Terminal New York International (now JFK International), Circa 1962_Balthazar Korab_New York_USA
Building for Postwar America: Nation, Business, Living, Community
This is the main and largest section of the exhibition. While the "Milieu" sections will present contextual material on Saarinen's family, friends, colleagues, critics, etc., these areas will focus on the buildings' aesthetics via original, never-before-seen drawings, furniture, models, and photographs, many showing art commissioned for them. Prominent will be a selection of photographic murals of the buildings under construction, which were widely publicized at the time and which give visitors a sense of the anticipation generated by Saarinen's unusual buildings. Also of special interest in this section will be full-scale building components, which will demonstrate the many technological firsts the Saarinen office created, as well as media specifically commissioned for the exhibition, such as computer renderings, short films that offer visitors the experience of Saarinen's buildings, and new interviews with colleagues and family.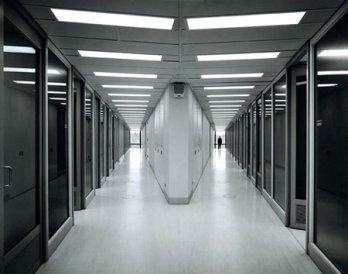 Eero Saarinen_IBM Manufacturing and training facility, Circa 1958_Balthazar Korab_Rochester, Minesota_USA
Eero Saarinen helped build an image of modern America both abroad and at home at the height of the Cold War. He designed two American embassies in London and Oslo and the less-known, unrealized embassy in Helsinki; memorials to major figures and moments in American history such as Thomas Jefferson and World War II; and prominent airport gateways that welcomed visitors to the optimism of the United States.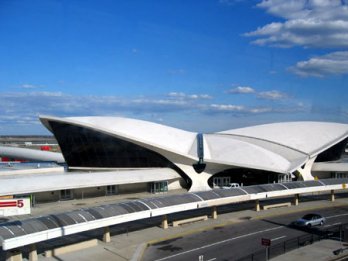 Eero Saarinen_JFK International Airport, Circa 1962_Balthazar Korab_New York_USA
Saarinen designed buildings for General Motors, IBM, Bell Laboratories, CBS, and Deere & Company in an era when "what was good for General Motors was good for America." Saarinen had a brilliant understanding of architecture's value for creating company image, often using new building technologies to brand forward-thinking corporations. For his business clients, he invented the first mirror glass curtain wall (Bell Laboratories), and the first use of a reinforced concrete frame in a skyscraper (CBS). Generally occupying pristine rural settings, these buildings represented the development of a new office type, the "corporate estate." IBM's Research Center in Yorktown Heights, New York, exemplified the new typology of a business palazzo that interpreted the traditional country estate in a modern, corporate esthetic, similarly evoking power and authority.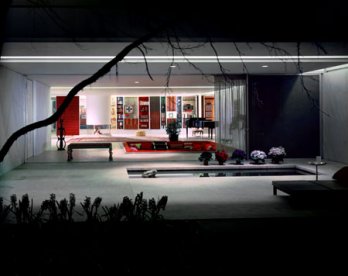 Eero Saarinen_Miller House, Circa 1957_Ezra Stoller_Indiana_USA
Although not well known as a domestic architect, Saarinen designed two classics of mid-century residential architecture: the Entenza House in Los Angeles and the Miller House in Columbus, Indiana. Together with the winning entry for the 1943 "Houses for Postwar Living" competition, organized by Arts & Architecture magazine, these projects were important milestones in the development of the formal, spatial, and technological paradigms of the modern house: the free plan, the continuum between inside and outside, and the use of prefabricated components. Saarinen's domestic furniture designs, which started with the winning entry for the Museum of Modern Art's 1940 "Organic Design in Home Furnishings" competition in collaboration with Charles Eames, have become icons of exuberant mid-century American design. The exhibition address how these domestic projects contributed to the reassessment of European modernism that dominated American architectural discussions during the postwar era.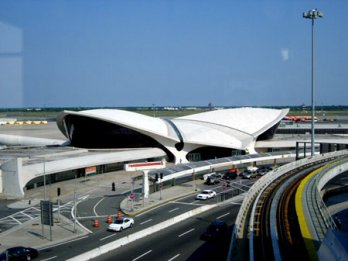 Eero Saarinen_TWA_New York International (now JFK International), Circa 1962_Balthazar Korab_New York_USA
Following the elder Saarinen's belief that "architectural-form equals social-form," Eero Saarinen attempted to create a sense of community through architecture, especially in his many designs for university campuses, chapels, and churches. Dramatically expanding in response to the postwar boom in college education, campuses became cities in microcosm. In his master plans and buildings for Vassar, Yale, and the University of Michigan, among others, Saarinen aimed to balance student comfort and privacy with amenities that encouraged social interaction and projected a larger common identity. Each campus project will be analyzed as a continuing refinement of this effort and will be placed in the broader context of the community building aspirations of Saarinen's religious and cultural commissions.
www.eerosaarinen.net