Basquiat
SAMO the shooting star.
P.O., February 27, 2019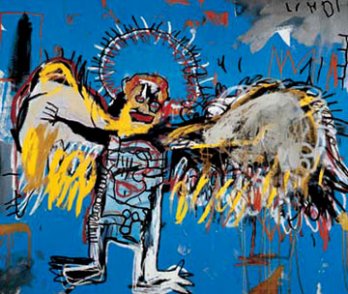 Jean-Michel Basquiat_Fallen Angel, 1981_New York_USA
Far from grafitti, Jean-Michel Basquiat's works were considered paintings and were associated with those of the Italian transavantgarde (he would go on to collaborate with painters Francesco Clemente and Andy Warhol). Photocopied colours were applied on the canvas in some places, while in others dark and grotesque figures were drawn, along with words or formulas, more or less decipherable signs intersecting with harsh colours. Quotations extracted from the media were written, autobiographical fragments also appeared (the crown of SAMO), and elements were borrowed from voodoo cult (assertion of "negritude").
Jean-Michel Basquiat_Piano lesson for Chiara, 1983_New York_USA
The painting of Jean-Michel Basquiat refers as much to art primitivism, Rough Art or Cobra as it does wtih the great American tradition of Robert Rauschenberg and Cy Twombly. Keith Haring, a plastics technician and friend of Basquiat, affirmed in 1983: "It made the second revolution of New York art after the assertion of the women in painting." " Posting a "bestiary of words" according to the critic David Shapiro which compares the art of Basquiat with the "medieval chanson de geste, he is "a poet of the street who penetrates in the living rooms of the high society".