Basquiat
SAMO the shooting star.
P.O., February 27, 2019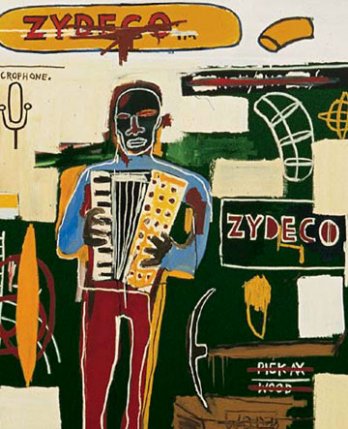 Jean-Michel Basquiat, Zydeco, 1984_New York_USA
The 'disallowed' activity of the taggers proceeded to make great performances as they erupted into the artistic world. The New York exhibit, "New Wave", exhibition. Moved onto canvas, the grafitti works were for sale. Some of the grafitti authors became 'artists' as galleries became interested in exhibiting their productions, replacing the austere 1970's paintings and works. Jean-Michel Basquiat was recognized as a great artist; he flew from one success to another. He started with an exhibition in the Mazzoli Gallery in Modena (Italy), then to the Anina Nosei Gallery in New York, followed by several others. At the age of 22 years he took part in Dokumenta 7 in Cassel along with exhibitors Gerhard Richter and Sigmar Polke. Jean-Michel Basquiat was the youngest artist of this great exhibition.
Jean-Michel Basquiat_Untitle, 1982_New York_USA