The Situationist International (1957–1972)
An Bauhaus imaginiste
Heinz Stahlhut, May 14, 2007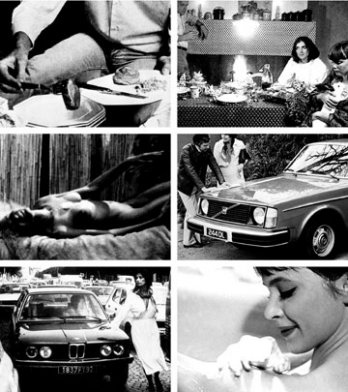 Guy Debord_Film still, 1978_Alice Debord_Paris_France
The Lettrists presumed that the destruction of poetry, hacking it down to the "letter," would make it possible to liberate language. The prescription of the liberated new creation out of destroyed reduction was subsequently applied to all of the arts and every social theme. The entire past was to be dissolved and brought to a new act of creation. The journey will show works and documents that illustrate the rigorously asocial existence of the protagonists and their equally rigorous work in the media of language and film.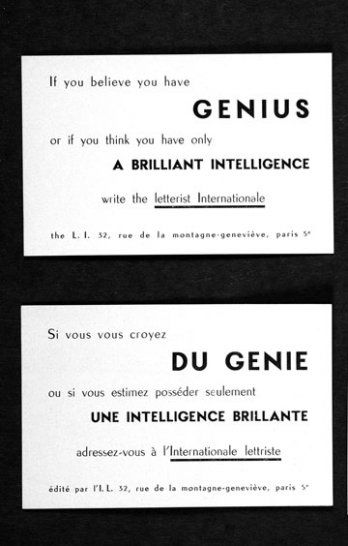 International lettriste Si\If, 1958_Berlin_Germany
.
CoBrA


The other group that preceded the SI also turned against avant-garde positions that had become academic, such as Surrealism and abstraction. The name of the group formed in November 1948 by Christian Dotremont of Belgium, Constant Nieuwenhuys of the Netherlands, and Asger Jorn of Denmark was derived programmatically from the initials of the three cities from which the artists and writers came: Copenhagen, Brussels, and Amsterdam, and at the same time evoked the dangerous reptile that was supposed to seize French dominance and nomenclature in art in its stranglehold. With reference to popular art and Art Brut, the members of CoBrA sought to liberate art from its elite reservation and make it a product for all: "Art exists in every act of happy people. Art is joie de vivre; it is the automatic reflex of our attitude toward life." Defined by this ambition, Christian Dotremont, Karel Appel, Pierre Alechinsky, Constant, and Corneille created their narrative, often abstrusely fissured paintings. Until the group was dissolved in 1952, all of its members worked tirelessly to re-infuse magic into everyday life.