JARDINS DE MÉTIS
From the barely audible to the highly melodic sound resonates in the contemporary garden
Lesley Johnstone, April 23, 2007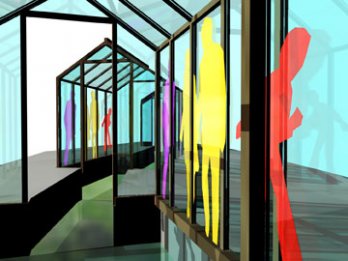 L'effet désert_Bosses design_Quebec_Canada
Les Jardins de Métis/Reford Gardens


Les Jardins de Métis are located on the shores of the St. Lawrence and Mitis rivers in eastern Québec. A national historic site, the gardens are one of North America's premier garden and tourist destinations with as many as 100,000 visitors every summer. Created by Elsie Reford over a period of 30 years, they are a living testimony to her passion for gardening and plants. The gardens are open to the public daily from 2 June to 30 September 2007.
International Garden Festival


Launched in 2000, the International Garden Festival takes place on a site adjacent to the historic gardens. A unique forum for innovation and experimentation, the Festival presents temporary gardens created by Québec, Canadian, and international designers. This artistic event allows visitors to discover inspiring spaces bringing together the visual arts, architecture, design, the landscape, and nature.
Since its inaugural edition, the Festival has won several awards, including the National Post Design Exchange Awards, the Grand Prix du tourisme québécois, and the Société des musées québécois prize for the best exhibition. In addition, numerous gardens have received awards from the Institut de Design Montréal (IDM), the Ordre des architects du Québec, the Canadian Society of Landscape Architects, Canada Blooms, and the Design Exchange.
www.refordgardens.com