Alter Architecture
Here, there & differently
Christine de Schaetzen, April 2, 2007
Tell Beydar_Syria
The house-village of Tell Beydar (Syria) by André Stevens
Built by André Stevens (Belgium) and Mohamad Garad (Syria), the Tell Beydar house-village is designed to accommodate an archaeological mission of about 50 members. It is built on a section of the former circular perimeter wall of the town of Nabda (2,400 BC), using the traditional technique of green brick made of earth mixed with water and chopped straw. The walls are 50-75 centimetres thick and the roofs are sugarloaf domes or constructed with logs of populus euphratica surmounted with boards, a straw bed and a waterproof finish in beaten down earth. To limit the use of wood, the architects used the corbelled arch as already used 5000 years ago. This architectural variation on Arab and Mesopotamian themes is both an agreeable residence and an exceptional training site.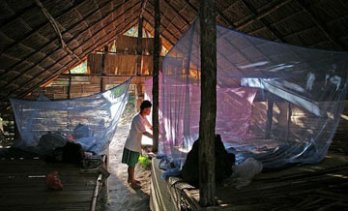 Bamboo house
The bamboo structures of Simon Velez in Colombia by Analía Garcia Ramirez
Bamboo is a giant member of the grasses family. Its hollow morphology and regular knots render it more resistant than steel, relatively non-flammable and supple, light and flexible. It resists solvency in water better than wood, does not rust, is waterproof and rotproof and needs no working. A natural resource available in inexhaustible quantities, and resistant to earthquake, bamboo is nevertheless being replaced by concrete and bricks, especially in South America. The famous Colombian architect Simon Velez combines Colombian tradition and structural design, ecology and the most avant-garde technology in his use of this material.