Alter Architecture
Here, there & differently
Christine de Schaetzen, April 2, 2007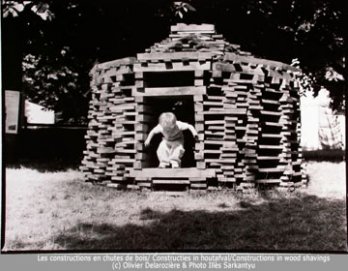 Olivier Delarozière and Ursula Gleeson
Constructions in wood shavings by Olivier Delarozière & Ursula Gleeson
Wood shavings are an inevitable by-product of any sawmill and the recycling of this wood waste is a significant component of the timber sector. As wood shavings are often transformed into panels or charcoal, why not use them in constructions? When worked into well-calibrated and solid slabs they resemble bricks, which can be stacked to create very stable walls and corbelled domes, using computing tools as an aid. The surprising results obtained by this architecture and its experimentation, in particular the forester's houses found in Eastern Europe, are described through exceptional documents. A hut made of wood shavings will be created especially for the exhibition.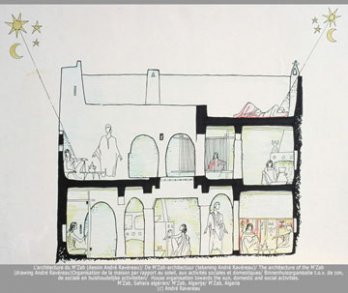 André Ravéreau
André Ravéreau and the fascination with an aesthetic (Algeria) by Philippe Lauwers
In 1949, the French architect André Ravéreau, who was working in Algiers, travelled to Ghardaïa, in the M'Zab Valley (Algeria), where he set about studying the architecture of a town whose aesthetics immediately fascinated and charmed him. The inhabitants of the M'Zab are known as Ibadites, an offshoot of the Muslim community who settled in this practically virgin valley in around the 11th century and who managed to apply the demands of a religion, a philosophy and a social life to the conception of a human space and its built domain for a period of 1,000 years. Their architecture shows an exceptional purity of conception, escaping formalisms and perfectly adapted to the climate. André Ravéreau saw in the M'Zab both the rigour of Perret and the exciting forms found in Le Corbusier, whose constructions were marked by the lessons of the M'Zab.