Twenty things you should know about Eva Van Den Bulcke...
Schlof project
Zanoa Bia, March 5, 2007
Showroom_Schlof_Montreal_Canada
E.D.: What is your favourite example of the use of art in advertising? E.D.V.B.
: I really liked the Honda ad "Grr" because it used cartoons to convey a very cold subject: diesel motors. With a little whistling song they created a message people would hum all over the world, making it a contagious message. Check it out:
www.honda.co.uk/change

E.D.: What Art project would you never design and why? E.V.D.B.
: This question is as strange as thinking of something I would do without wanting to do it…

E.D.: What are your favourite items (in art, photography, design)? E.V.D.B.
: Any item with an idea.
Big bed_Schlof_Montreal_Canada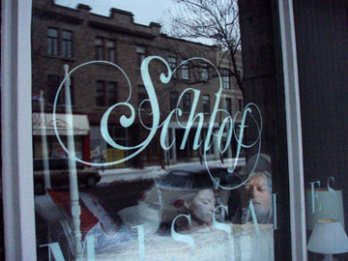 Shop window_Schlof_Montreal_Canada