Twenty things you should know about Eva Van Den Bulcke...
Schlof project
Zanoa Bia, March 5, 2007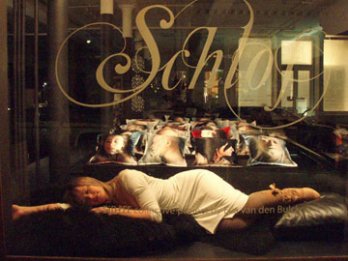 Sleeping beauty_Schlof_New York_USA
E.D.: What are your favourite brands or objects right now and why?E.V.D.B.
: I'm so not a brand person. I couldn't sleep with a logo on my t-shirt. I can't stand for a brand. I like beautiful things. Sometimes a brand impairs my judgement.
E.D.: Which city resembles you the most and why?E.V.D.B.
: Montreal. We're always second, so we try harder.
E.D.: What would be your dream project?E.V.D.B.
: Take pictures of people sleeping all around the world, like Poutine and Bush; and then make a huge bed where the whole world would be sleeping peacefully together.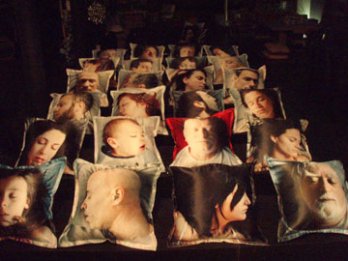 Pillows display_Schlof_Montréal_Canada