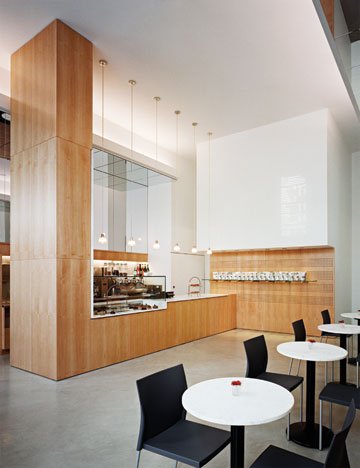 Vancouver's Cito Espresso Café
One of a kind
Peter Cardew, architecte, June 22, 2006
Coffee aficionados, the owners David and Bonnie Lowe wanted a store that stood apart from the sea of brand-named coffee shops that has overtaken virtually every corner of the city.
Located in a premises previously occupied by a pizza parlour, the 1000 sq ft café seats 30 and includes a kitchen, a washroom and storage. The centre of the small space is dominated by a pre-existing large concrete column which supports the 35-storey residential tower above. To overcome this potential obstruction, the vertical column was incorporated into the horizontal display and service counter, and clad with the same marble and wood paneling. In this way, the column becomes a part of the display fixture, and its function in relation to the building above becomes secondary to its totemic role in the café.

The selection of materials such as marble and wood paneling has a subliminal association with quality - in this case, the quality of a coffee that stood above the competition. Due to a limited budget, these materials are used judiciously, limiting the marble to the counter and tables where the customer and the coffee come in contact, and the wood to the service counter and the lower level of the walls against which the customers are seated. The wood is perforated to provide acoustic absorption at the conversation level.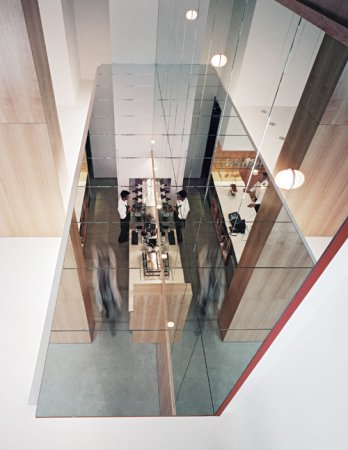 P. Martin Tessier
To break down the spatial limitations of the room, mirrors are applied to parts of the ceiling and to the upper part of the walls which, through their kaleidoscopic reflections, visually amplify the activity in the space and reflect daylight and the cityscape into the room. The base of the mirrors is intentionally above eye level to avoid the self consciousness of people reflected in a small space.
One positive characteristic of the existing space was the height of the structural concrete slab of the floor above, which was maximized to create a 16 ft high ceiling whose height is further emphasized by the dominant vertical column.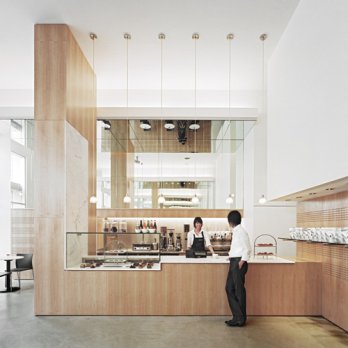 P. Martin Tessier
In contrast to the visual clutter that is the norm in such venues, there is no applied decoration. Instead the focus is on the coffee-making process and equipment and the display of food. This minimal-impact approach to the space applies also to the menu, which is projected onto a wall - thanks to enthusiastic cooperation between our office and the projection equipment manufacturer.
Even the music avoids the ubiquitous satellite wallpaper sound and instead is based on the extensive and eclectic collection of the owners!

Peter Cardew Architects
www.cardew.ca