Richard Hutten
18 years of playing
DMG, March 8, 2010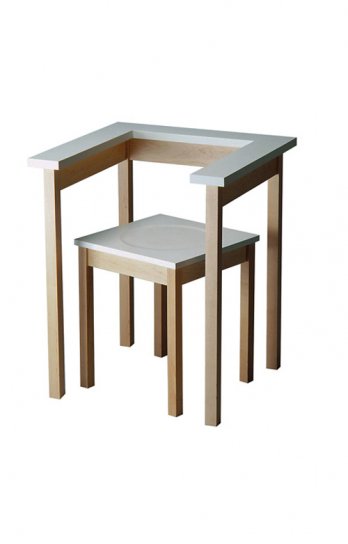 Richard Hutten/Table Chair for Droog Design (NL), 1991 MDF_Richard Hutten B.V.
The naughty Sexy Relaxy
The Sexy Relaxy is highly peculiar. For this design Richard Hutten drew inspiration from the world-famous movie scene from Paul Verhoeven's picture Basic Instinct. The Sharon Stone pose, so to speak. The Sexy Relaxy allows one to only sit comfortably legs agape. The Richard Hutten Collection has been part of NgispeN since 2008. NgispeN is the label with which Gispen is starting a new collection, aimed particularly at design for at home. Gispen, once a reference in the field of design furniture, had limited itself to office furniture from a certain point onwards. With the acquisition of the Hutten collection, the brand is returning to the living room and the private customer. Richard Hutten is NgispeN's creative director.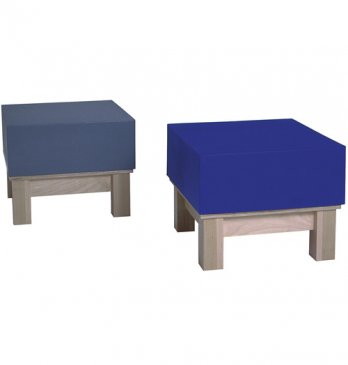 Richard Hutten/Poef-Pouff for Droog Design (NL), 1994_Richard Hutten B.V.
Interior projects and architectural operations
Next to the interior decoration of the Centraal Museum in Utrecht, Hutten also did the interior design for the Film Museum in Amsterdam and for the Architectural Museum in Rotterdam, better known as the NAI. More recently in Brussels, French silver manufacturer Christofle reopened a store on the Waterloosesteenweg. At the heart of the shop is a model of the table Hutten designed for the Boijmans Van Beuningen Museum. The Atomes d'Argent by Richard Hutten, a series of exceedingly remarkable candlesticks, vases and bowls are offered for sale there.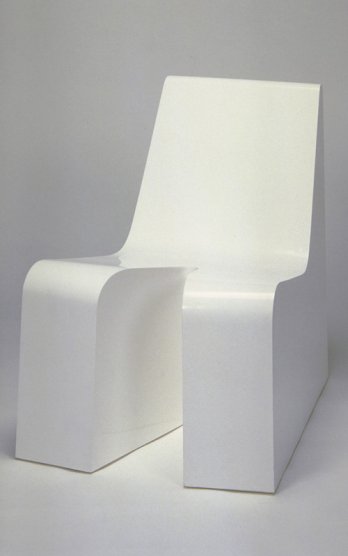 Richard Hutten/Chair Sexy Relaxy for E & Y (JP), 2000_Richard Hutten B.V.
Rotterdam-based architectural firm MVRDV asked to design the interior for their office/residential home. One highly remarkable project however is the interior design for the Parkrand, a building designed by MVRDV in the Amsterdam neighbourhood of Geuzenveld. It can be recognized by the odd "peeping holes". Three non-openly accessible courtyards were decorated by Hutten. In the so-called 'outer kitchen' Hutten installed a giant hanging lamp and a two-metre high table as a podium. The so-called 'living room' with metres-high flowerpots are illuminated by the largest chandelier in the Netherlands. He decorated 'the outer children's room' or the playground with artificial grass, toboggans (among them the toboggan of doubt, which to take: left or right) and luminescent elephants to sit on. Everything is large and inflated, except for the elephants which are shrunk. Typical Hutten humour.
Through June 6, 2010
www.designmuseumgent.be