Valérie Belin
The anthropometric method: Metamorphosis or transformation?
Elodie Buisson, January 10, 2007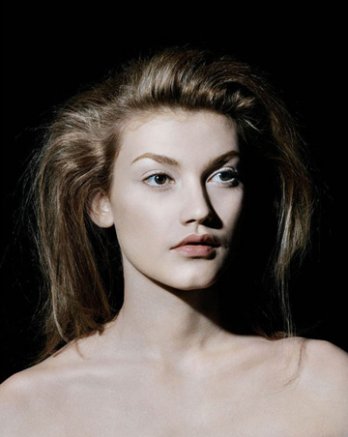 This series of portraits illustrates an aesthetic concept evoking that of avatars used in virtual worlds. The impression of being unreal is not only due to the excessive plasticity of the models, but is also generated by the conceptual and photographical operations the artist uses to produce meanings. By strictly delimitating areas of shadow and strong luminosity, the light is obliterating the fleshiness of the faces and bodies. By illuminating, in a way, just one face of the subject, the artist creates a spectral vision without substance. The treatment of colour, intentionally desaturated, produces a monochromic and diaphanous impression of the flesh that the eyes and the mouth colourfully counterpoint, like artefacts. However, this non-naturalist treatment of colour is not artificial: it rather evokes the coloration of a painted portrait in which the artist develops a vision.
The skin, made up and powdered for the occasion, becomes a surface without blemishes, its perfection being more imaginary than real. Finally, the void of expression and the particular vacuity of the glances dictated by the poses contribute to transform human beings into chimera.