Lamija Suljevic
Twenty things you should know about Lamija Suljevic...
E.D., May 24, 2011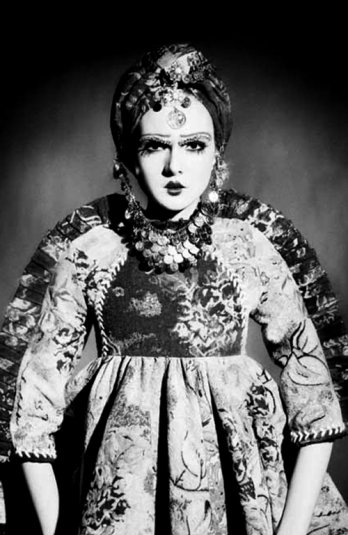 Lamija Suljevic/Emma Jönsson Dysell
E.D.: Which Designer, artist / architect do you admire most?L.S.:
Balenciaga, Galliano and Chanel. I think it's hard to not admire them. Hopefully I would love create my own trade in the future.
E.D.: What are currently your favorite brands or objects, and why?L.S.:
My current crush is the brand Rodarte – of Kate and Laura Mulleavy -! I looooooove their dresses and their story is so inspiring!
E.D.: Which city resembles you the most and why?L.S.:
Paris. I feel at home in Paris. That's very strange and something very powerful for me, since I lost my hometown when my family had to flee from Bosnia during the Balkan war in 1992. I learned a lot about elegance from the French women.
Lamija Suljevic/Emma Jönsson Dysell
E.D.: Your dream project?L.S.:
My biggest dream is to make a living on this, and I would love to show my collection during
New York Fashion Week
in Bryant Park.
E.D.: What is your favourite example of the use of sustainable fabrics/products in Fashion Design?L.S.:
I love the fact that H&M is going to present their eco collection in March. My thoughts goes like: if a huge company like that can make an effort then surely the smaller brands like mine will follow...
E.D.: What design/clothes project would you never design and why?L.S.:
I'm not a fan of t-shirts...
Lamija Suljevic/Emma Jönsson Dysell
E.D.: Can you describe an evolution in your work from your first projects to the present day?L.S.:
I started my first company when I was just 17. But I knew how to knit and crochet when I was 11 years old. I worked with my previous label for three seasons until I decided to move on. I specialized myself in pattern design and tailoring dresses in Stockholm. I have recently shown my first solo collection under my own brand Lamija Suljevic. I'm currently preparing for the
Scope Art Show
in New York.