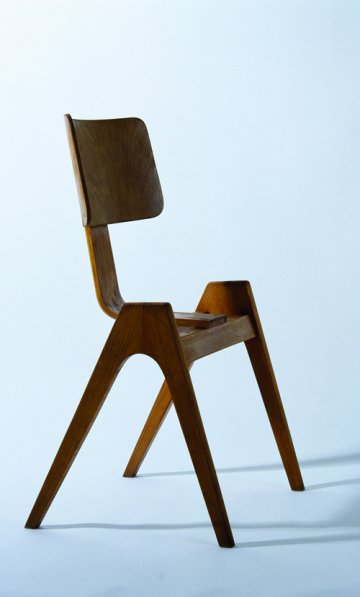 Destrøy Design
Objet Oblige
Claire Favre Maxwell + Susanne Hilpert Stuber, April 19, 2010
As a first at the mudac, an important selection of works on loan from France's FRAC Nord- Pas de Calais (Regional Contemporary Art Collection, Dunkerque) will go on show with an eye above all to the position of the object today: How do artists and designers consider the object? How do they integrate it into their projects? How do they relate to its everyday aspect? Do artists see it differently than designers do?
This fascinating overview of the holdings of one of the first Regional Contemporary Art Collections to have acquired design pieces will allow visitors to compare creations by internationally renowned artists with those by today's leading designers. Featured on the museum's two floors devoted to temporary exhibitions, Design Destroy comprises works by thirty-one artists, including Switzerland's John Armleder, Sylvie Fleury and the brothers Gilles and Vincent Turin. After this, the first leg of its tour of Europe, the show will head for Denmark.
By showing contemporary art works side by side with design pieces, Hilde Teerlinck—the director of FRAC Nord–Pas de Calais—offers an exciting reading of both, with all the displays stemming from her collections. Their shared point of focus is on mostly mundane objects, whether diverted, repurposed or at times manhandled. As such, they are turned into installations, manifestoes, photographs or sculptures. As such, too, they attest to the influence and even the forcefulness of certain 20th-century artists—most notably, of Marcel Duchamp, considered to be the first to have challenged the importance, the meaning and value of works of art.
Detitled, 2000_Barbara Visser_Collection FRAC Nord-Pas de Calais, Dunkerque FR_Anne Gelink Gallery, Amsterdam
Indeed, Duchamp's famous "readymades" boldly transgressed a boundary never before tackled— that of presenting preexisting objects as works of art, untouched by any artist. At the time, this concept, to which the artists of the next generation would subscribe many times over, was extremely shocking. Above and beyond the first reaction it elicited of people, the French artist was questioning the creative gesture—the very issue that several of the pieces shown in
Destroy Design
also take up.
As underscored by the show's title, contemporary art projects tend to "destroy" many of the myths surrounding art. Using parody and pastiche, or simply in the form of tributes, today's artists relate to artworks of the past. Thus Sylvie Fleury diverts the Claes Oldenburg installation "Bedroom Ensemble." Or again, Barbara Visser starts off with thirteen design icons—simple chairs, armchairs and sofas—which she photographs after they have been roughed up; the resulting seats, normally highly recognizable, acquire a whole new appearance once slashed, ripped open, torn, burned and broken.
Detitled, 2000_Barbara Visser_Collection FRAC Nord-Pas-de Calais, Dunkerque, FR_Anne Gelink Gallery, Amsterdam
Some artists turn objects into manifestoes, endowing them with a message: Martí Guixé, for instance, adorns ten chairs from his "Skip Furniture" series with the slogan "Stop discriminating cheap furniture." And, in his "Le suicide d'objets" (the suicide of objects), Philippe Ramette anthropomorphizes his armchair so as to express his disgust with the over-production and mercantilism of our era, while Donald Judd uses variations on a single object—the wooden chair in its basic, geometric forms—as the subject of his installation. Besides the deconstruction of recent art history icons, the show also highlights our new relationship with objects so that, diverted or repurposed, these become the raw material for installations and sculptures.
The possibility of comparing the vision of an artist with that of a designer is one of this show's main interests. At first glance, the two do not seem to share the same approach: whereas artists may go so far as to abolish an object's functional attributes (cf. Armleder, Fleury, Slotawa a.o.), designers can be loathe to take such a decisive step. Tejo Remy's wardrobe remains usable, as does Charles Kaisin's bench or Santachiara's inflatable bed. In other words, starting off with a similar medium, often enough the relationship with an object changes depending on its creator's train of thought and on the implications of the object's production.