Tropical Homes
The Eastern Caribbean's Architecture
Nargisse Rafik, March 11, 2011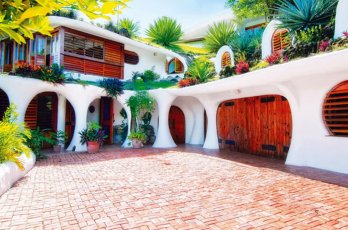 Mount Hartman Bay Estate, Grenada_Derek Galon
You are invited to indulge yourself in savouring the seductive beauty of this region. Thirty-one gems of its architecture, and the extraordinary people who are their owners, keepers, or creators, await you in this book to be discovered.
The manner of writing is light and anecdotal, with a very fresh and personal approach. The pictures will stay in your memory. That's because this book was born of passion: the authors' passion for fine architecture, for life-stories, for nature – for beauty in every form.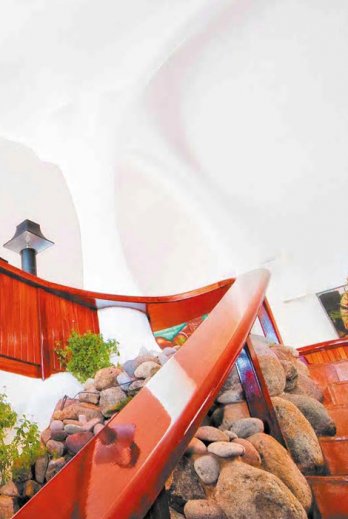 MT. Hartman Bay Estate, Grenada_Stairs_Derek Galon
The authors, Derek Galon – experienced art photographer from Europe, and Margaret Gajek – seasoned art historian, researcher and writer – teamed up to create a series of captivating books, of which "Tropical Homes of the Eastern Caribbean" is the first one.
Because this enchanting architecture is intimately tied with the people living there, the authors have tried to present the various houses as perceived through the eyes and personal experiences of the individuals who dwell in them.
The text was very thoroughly researched, to give readers both sound factual information, as well as many intriguing details, well beyond what such books generally offer.
And the photographs are not only artistically beautiful but also highly professional and meticulously edited using revolutionary, new High Dynamic Range and Fusion techniques, for a juicier and more thrilling, spectacular effect.

The overall content, combined with the fine quality of print, makes this book an outstanding publication of its kind.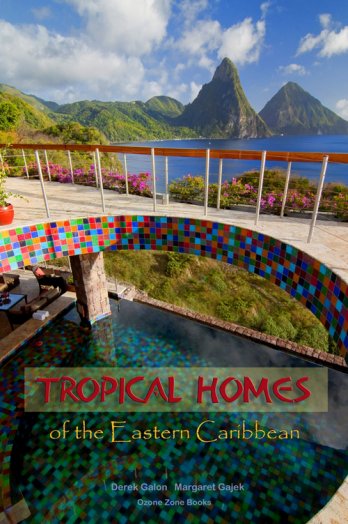 Tropica Homes_Cover_Derek Galon
For the reader's greater enjoyment and richer experience, additional material relating to the book will be offered on the publisher's web site – like playable audio excerpts from selected interviews, working photos, and more.
* Photo on the main page: Jade Mountain, St Lucia, Derek Galon