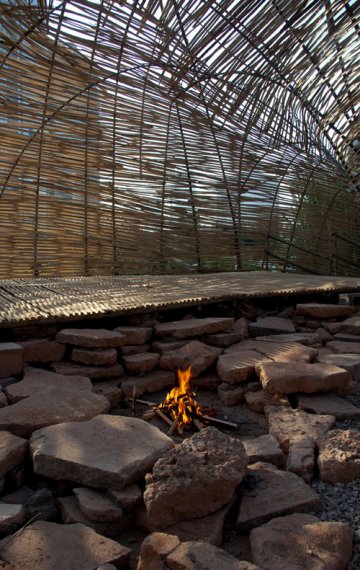 Bug Dome by The WEAK!
Marco Casagrande + Hsieh Ying-chun + Roan Ching-yueh
Marco Casagrande, January 18, 2010
The building is realized on a wasteland of a ruined building site in-between the Shenzhen City Hall and an illegal workers camp. The design is inspired by insects. The bamboo construction methods are based on local knowledge from rural Guanxi brought into the city by the migrating construction workers.
The space is used during the SZHK Biennale for underground bands, poetry reading, discussions, karaoke and as a lounge for the illegal workers from the neighboring camp. The building offers a shade, a stage and a fireplace. After the Biennale the Bug Dome will act as an un-official social club for illegal workers from the Chinese countryside.
The building is weak, flexible and improvised to meet the site-specific conditions. It is growing from a ruin. The architectural control has been given up in order to let the nature step in. The weak architecture is a mediator between the human nature and nature. The construction is a result of participatory planning between the designers, construction workers and local knowledge.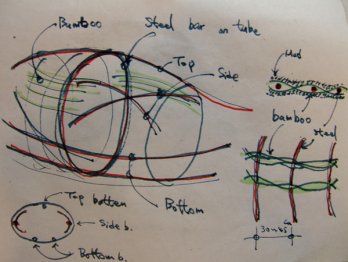 Bug Dome/Cocoon_Hsieh Ying Chun
The cocoon is a weak retreat for the modern man to escape from the strength of the exploding urbanism in the heart of Shenzhen. It is a shelter to protect the industrial insects from the elements of un-nature. When the fire is up a society is born again. One has to take the liberty to travel a thousand years back in order to realize that the things are the same.
Let everything that has been planned come true
Let them believe. And let them have a laugh at their passions. Because what they call passion actually is not some emotional energy but just a friction between their souls and the outside world. And most important: let them believe in themselves. Let them be helpless like children, because: weakness is a great thing and strength is nothing.
- "Stalker", Andrei Tarkovsky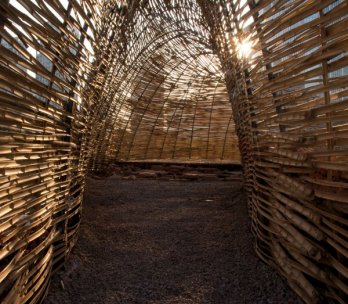 Bug Dome_WEAK_Marco Casagrande
Architects:
Hsieh Ying-chun 謝英俊_Marco Casagrande 馬可·卡薩格蘭_Roan Ching-yueh 阮慶岳
Construction Work:
Chen, Jiang Zhou, Leo Cheng, Marco Casagrande, Nikita Wu, Shao Lei, Wei Jia-kuan, Wei Jing-Ke_
Design Assistant:
Frank Chen_
Local Knowledge:
Wei Jia-kuan, Wei Jing-Ke.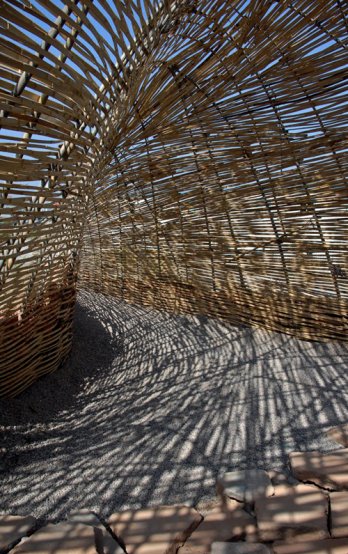 Bug Dome_WEAK_Marco Casagrande
Location:
Shenzhen, China_
Site:
3000 m
2
waste land, ruined building site_
Building footprint:
120 m
2
_
Materials:
bamboo, wood, gravel, recycled concrete_
Completed:
2009.