The Clouds' flavors...
WHAF by David Edwards + Marc Bretillot
Valérie Abrial, March 8, 2016
Marc Bretillot_Anne Muratore
V.A.: How do you perceive Le Whaf's future?M.B.:
I have always believed that creation in the food sector lagged behind creation in the arts and new technologies (for reasons related to the subsistence of the species, I suppose). But the way we feed ourselves is an accurate refl ection of the time we live in. I think we can safely say that the prospective vision of the scientist gives us a glimpse of what our future will look like. For my part, I see Le Whaf not as an object separated from the eating ritual, but rather as an additional part of the overall degustation process. The feedback we get from the prototype, and how users receive it, will help us orient the product's current positioning, as well as the question of how it should be used and the imaginary world that it suggests. There are still a lot of questions to be answered, and every answer begets new questions. In fact, as we journey forward, we pick up more questions than answers.
D.E.:
With Le Whaf, inhaled cuisine is poetic and delicious, and there is the potentiality for a wide range of flavors. In fact, people can even create them at home and, like Marc said, Le Whaf is probably best conceived as a complement to what already exists; a new culinary route to add to the map.
Marc Bretillot Bio_Express
Marc Bretillot is a culinary designer. He teaches at the Reims Ecole Supérieure d'Art et de Design, where he created a culinary design research workshop. He also advises food industry and catering professionals looking to innovate. Lastly, he organizes food-based special events, and performances at the cutting edge of contemporary art. Marc Bretillot studied at the Ecole Boulle from 1980 to 1986, and then studied glassworking techniques from 1989 to 1992, as well as furniture design in 1993. He soon embraced design in the broadest sense. In 1989, he opened a multi-materials workshop in the Parisian popular neighborhood of Ménilmontant, where he created once-off objects and furniture. His customers include Pedro Almodovar, Celio, EDF-GDF, the Paris Furniture Show, and the Namur Creation Biennial.
In 2001, he combined his expertise with his eternal passion: cooking, completely changing his workshop to make it suitable for culinary design. This led to a number of installations and performances for locations and events such as the Paris Hunting Museum; the Cartier Foundation; Grand Théâtre de Dijon; Designer's Day Fair (for Boffi ); the Ephemeral Restaurant at the Palais de Tokyo in Paris; the inauguration of the Paris to Strasbourg High-Speed train. At the same time, Marc Bretillot created food products for the Grande Epicerie de Paris, the Limousin Chamber of Trades, and Haagen-Dazs.
He has worked with leading chefs such as Pierre Gagnaire, Michel Roth, Jean-Pierre Piege, and Eric Trochon. He has also organized workshops at the Paul Bocuse Institute; the Vatant cooking school in Japan, and the Geneva Advanced Institute of Art and Design. An active member of the punk rock group "Les Equarisseurs", he has organized culinary-rock performances at the Saint-Etienne Design Biennial Festival and at the Théâtre de l'Echangeur in Bagnolet. He is first and foremost however... an inveterate eater.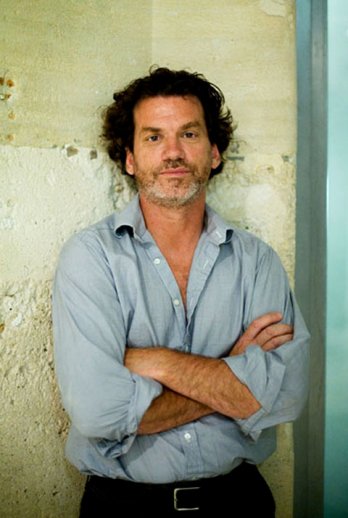 David Edwards_ARC, UC
David Edwards Bio_Express
David Edwards is a scientist and writer and founder of Le Laboratoire. He also retains a faculty position at Harvard University, where he teaches idea development in the arts and sciences. The inventor of new ways for treating diseases by aerosols, David is the scientifi c founder of the for-profi t company Pulmatrix and the international nonprofi t Medicine in Need (MEND). At Le Laboratoire he invented and launched commercially Le Whif, the fi rst product in the new fi eld of aerosol cuisine, which he is exploring with French chef Thierry Marx.
David's writing includes the founding books of Le Laboratoire, including Niche (Ecole de Beaux Arts 2007), Whiff (Ecole de Beaux Arts 2008) and Artscience: Creativity in the Post-Google Generation (Harvard Press 2008). In 2008, David Edwards was made Chevalier des Arts et des Lettres by the French Ministry of Culture; in the same year he was elected to the French National Academy of Engineering. He is a member of the American National Academy of Engineering since 2001.
www.marcbretillot.com
www.lelaboratoire.org