Gerhard STEIDL
Fine art of Steidl book + Last Impressions
Marie-Claire Mermoud, January 4, 2010
Gerhard Steidl/Victor Hugo avant 1876 par Charles Constant Albert Nicolas_Photoglyptie_Woodburytype
Founder and only owner of his editing house, Steidl controls every step of the fabrication of his art books. He is also the appointed printer of the House of Chanel. Working in tandem with the couturier Karl Lagerfeld, Steidl underlines the creative aspect of his work for Chanel. In 2007, he even created, at Lagerfeld's 5 request, a printing font which is now used world-wide by all branches of the haute couture house. Steidl speaks of the Chanel "laboratory" as an experimental terrain for new printing techniques, new papers and new inks, which he then applies to his books. He has, without contest, become one of the most highly specialized printers of photography books, which remain his greatest interest. In his rare moments of solitude, he uses his own camera, creates his own models, researches typography, with a preference for Akzidenz-Grotesk, the first font which he acquired as a young printer, and immerses himself once again in the wise advice to be found in The Ideal Book, written over a century ago by the industrial esthetics theoretician William Morris.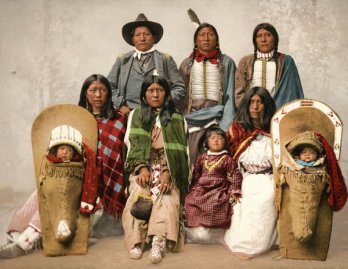 Gerhard Steidl/William Henry JACKSON_Sevara, Ute's tribue chief and his family, 1899_Photochromic
Some photographers have a particular talent for producing significant books, but they rarely work alone. Their collaboration with the editor, the printer, the graphic artist, the typographer, and the reproduction specialist contribute decisively to the success of their book. Publishing, laying-out, printing and distributing all happen under the same roof in the house on Düstere Strasse, in Göttingen. This is clearly the combined effort of a team of trade professionals. The chain is never broken, which is precisely what contributes to the success of the House of Steidl. Even fifteen years ago, when few people knew him, Steidl often said that he wanted to preserve his "island of self-sufficiency". Everyone agrees that his singularity is linked to his independence and to his relationship with the artists who arrive daily at "Steidlville", the nickname given to the premises by the photographer Roni Horn. The building next door, also a small house with narrow staircases, is a hotel for the editor's guests.
Gerhard Steidl/Edouard Payot_Soir d'orage, embouchure de l'Hermance, 1928_Procédé au charbon
Steidl wants this proximity in order to be able to consult with them at all times. He himself puts on his lab coat around 5 a.m., and it is only much later, around lunch-time (rarely before 2.30 p.m.) that he allows himself to relax with his guests. Rüdiger Schellong, the cook, receives hundreds of artists, art critics, curators, editors and every other professional in the world of books at his table every year. As everything is made on-site, the visitor learns his way around the premises very quickly. The doors behind the scenes are opened here by the photographs which we requested, all taken by illustrious photographers and other guests of the house. Steidl races from one floor to another between unforeseen events and emergencies.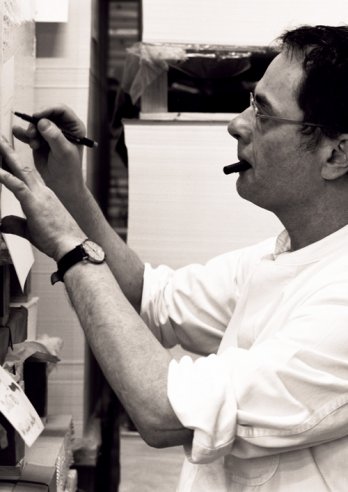 Gerhard Steidl/Koto Bolofo, Gerhard Steidl © 2009, Koto Bolofo
The photographer Joel Sternfeld compares the premises to the LaGuardia New York airport at rush hour on New Year's Day! According to a chronicle written by his assistant Monte Packham, Steidl owes this frantic rhythm to his thirst for new challenges. It seems difficult for him to say no or to make someone who has come from far away with a new project under his arm, wait. The artist who crosses his doorstep (after braving what is often a long waiting line) generally arrives "with pictures in his suitcase and ideas in his head", and there is no doubt that he will leave with a book project.
www.elysee.ch