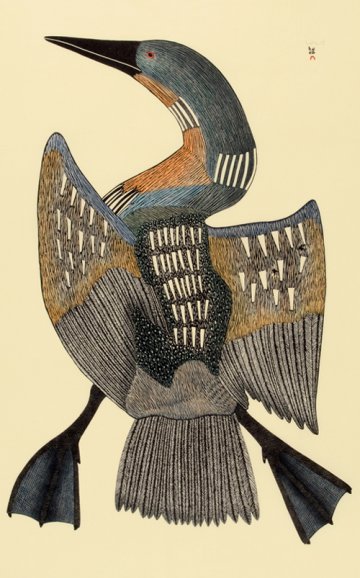 UUTURAUTIIT
Cape Dorset celebrates 50 years of printmaking
Marie Lugli, December 28, 2009
Cape Dorset—or Kinngait as it is locally known in Nunavut—celebrates 50 years of making prints. In tribute to this significant anniversary and the continued dynamism of the Kinngait Studios artists today, the National Gallery of Canada (NGC) presents Uuturautiit: Cape Dorset Celebrates 50 Years of Printmaking, an exhibition of 86 works on paper. Organized by the NGC in collaboration with Dorset Fine Arts, the arts division of Cape Dorset's West Baffin Eskimo Cooperative, the exhibition is on view until January 17, 2010.
Uuturautiit: Cape Dorset
Celebrates 50 Years of Printmaking showcases the inaugural suite of prints created in 1959 alongside a number of contemporary prints, including those created for the 2009 collection. As well, a selection of original 1959 drawings, exhibited publicly for the first time, and contemporary drawings offer an opportunity to appreciate the new courses being charted by Cape Dorset's artists. The opening of this exhibition coincides with the launch of the Cape Dorset 2009 annual collection.
Kananginak Pootoogook_Owl on Sealskin, 2009_Dorset Fine Arts
"This exhibition is exceptional because it pairs more recent and innovative work with the very first collection of Cape Dorset prints,"
said NGC Director, Marc Mayer.
"The 1959 collection is being shown in its entirety, likely for the first time in five decades, thanks to a generous loan from collector Douglas Steiner. We are honoured to host many of the artists who will be present at the opening of this exhibition and extend a special thank you to Dorset Fine Arts, for collaborating with us on this exciting project."
Uuturautiit – pronounced "oo-to-raw-tee"
"Uuturaqtu", or "uuturautiit" in the plural, is the Inuktitut term used in Cape Dorset for proofing a print, the crucial, creative and experimental stage before the print is finalized. It means "to try different things". The artists of Cape Dorset have been doing exactly that for over 50 years, combining their skill and artistry in a fascinating and prolific body of work that defines their commitment to experimentation.
Tudlik_Division of Meat, 1959_Private collection_MBAC
The inaugural prints of 1959
In the summer of 1956, the Department of Northern Affairs and Natural Resources sent art supplies and building materials for a craft centre to Cape Dorset. Before long, a small group of Inuit artists began to experiment with print techniques, learning from one another by trial and error. Three years of experimentation in linocut, stonecut and stencil culminated in the inaugural 1959 collection. Remarkable in their elegance and outstanding quality, the prints are a testimony to the artists' individual styles and technical skill already apparent at this early stage. Their immediate success led to the formation of the community-owned West Baffin Eskimo Co-operative, incorporated in 1959 and also celebrating 50 years. As Kananginak Pootoogook, one of the first printmakers and first President of the Co-operative, says, "The arts have kept our community alive, and printmaking has made the Co-op famous."
www.gallery.ca