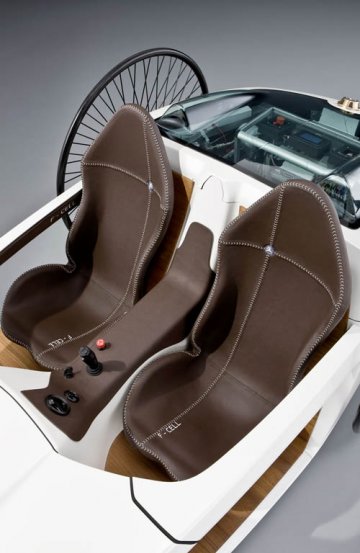 Mercedes-Benz F-CELL Roadster
Tradition meets the future
F.Y., July 5, 2010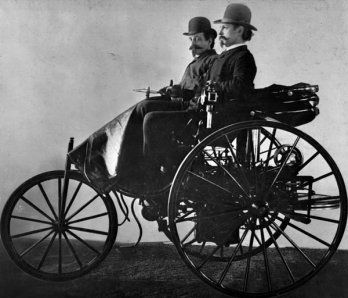 Karl Benz (in front), the inventor with Friedrich von Fischer, equally a member of the Board of Management of Benz & Ci AG
A Mechanical history...German inventor Carl Benz (1844-1929) is one of the many individuals given credit for the creation of the first automobile. In 1885 he invented the motorized tricycle, which became the first "horseless carriage" to be driven by an internal combustion engine. Benz's contributions to automotive design also included the creation of such features as a carburetor and an electrical ignition system. Carl Benz was a German engineer and inventor who was responsible for many contributions to the design of modern automobiles. He developed an internal combustion gasoline engine for his 1885 version of the "horseless carriage," which was initially a three-wheeled vehicle.
Other innovations by Benz included a simple carburetor, an electrical ignition system, rack-and-pinion steering, and water cooling. For his development of the 1885 motorized tricycle, Benz is given credit by some for creating the first automobile, while others contend that the three-wheel design did not constitute a true modern car. Regardless of his right to the title of inventor of the automobile, Benz did leave his mark on the auto industry by pioneering one of the first marketable motorized vehicles and founding the automobile company that came to be known as Mercedes-Benz.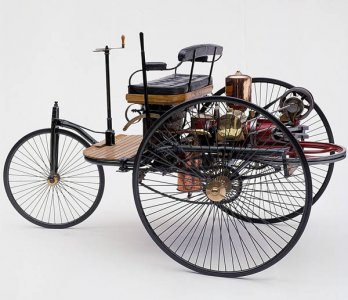 Benz Patent Motor Car_The world's first automobile_Daimler AG
In 1885, German mechanical engineer, Karl Benz designed and built the world's first practical automobile to be powered by an internal-combustion engine. On January 29, 1886, Benz received the first patent for a gas-fueled car. It was a three-wheeler; Benz built his first four-wheeled car in 1891. Benz & Company, the company started by the inventor, became the world's largest manufacturer of automobiles by 1900. Carl Friedrich Benz was born in 1844 in Baden Muehlburg, Germany (now part of Karlsruhe). He was the son of an engine driver. Benz attended the Karlsruhe grammar school and later the Karlsruhe Polytechnic University. In 1871, He founded his first company with partner August Ritter, the "Iron Foundry and Machine Shop" a supplier of building materials. Benz began his work on a two-stroke engine, in hopes of finding a new income. He received his first patent in 1879. In 1883, he founded Benz & Company to produce industrial engines in Mannheim, Germany. He then began designing a "motor carriage", with a four-stroke engine (based on Nicolaus Otto's patent). Benz designed his engine (958cc, 0.75hp) and the body for the three-wheel vehicle with an electric ignition, differential gears, and water-cooling. The car was first driven in Mannheim in 1885. On January 29, 1886, he was granted a patent for his gas-fueled automobile and in July, he began selling his automobile to the public.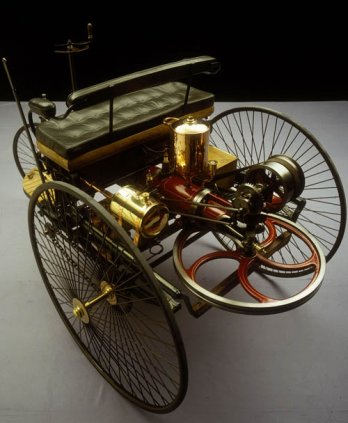 Benz Patent Motor Car_The World's first automobile_AG.