Daphne Odjig
Pow Wow at Wikwemikong
Marie Lugli, August 6, 2018
Daphne Odjig 2/Rebirth of a Culture, 1979_McMichael Art Canadian Klienburg, Ontario_Donation of James Hubbard and Dennis Jones for the memory of Estella & Stuart Wright
Our Families
The seven images in this grouping reveal that her work is rooted in a spirit of deep affection and connection to her family as well as the values that were instilled in her by the small community at Wikwemikong. A highlight is Two Ladies Quilting (1982), which portrays the metaphorical and communal act of stitching together remnants of colour and shape and the reciprocal act of telling, transmitting and relating that is central to the reconstruction of a people.
The Artist's Life
Odjig's practice has always centred on a spirit of experimentation and this section depicts her influences and the challenges she faced as an Aboriginal living in a dominant non-Aboriginal culture. The works reveal the artist's struggle and eventual triumph over society's attempts to colonize and subdue the spirit and creativity that is intrinsic to her work.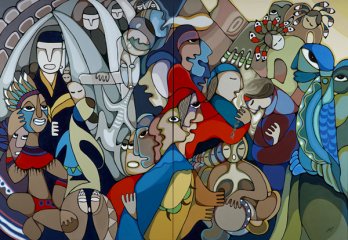 Daphne Odjig 2/Spiritual Renewal, 1984_Collection du Musée et du Centre artistique de l'Université Laurentienne, Université Laurentienne
Bio_Express
Odjig was born in 1919 on the Wikwemikong Reserve on Ontario's Manitoulin Island to an Odawa father and English mother. Her artistic training began when rheumatic fever forced her to leave school at age 13. At home, her grandfather Jonas, a stone carver, and father Dominic nurtured her talent for drawing. Sometimes Jonas told traditional Potawatomi stories while they sketched and painted. Though she would spend her early adulthood disconnected from her heritage – in large part an effort to avoid racism – she never stopped making art. Art would become the most significant line connecting the phases of her life. In the exhibition catalogue, co-published by the Gallery and the AGS, Devine writes that, "The stories as much as the curvilinear drawing style she learned from her stone carver grandfather during her convalescence influenced Odjig's aesthetic and metaphysical concerns throughout her life."
Odjig was formally recognized as an artist in 1963 when she was admitted to the British Columbia Federation of Artists. The work that opened this door, the 1962 oil painting Theatre Queue, is telling: it has been described as an expressionist urban landscape depicting Odjig's cultural isolation. She was once quoted regarding this time in her life in a profile in Equinox magazine: "I so badly wanted to be able to say to you, 'I'm Indian, I was born on a reserve.' But because of the situation, I couldn't do that..."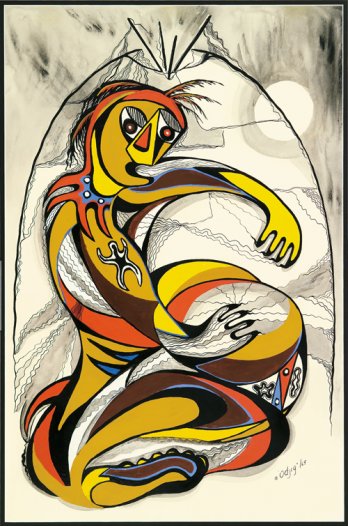 Daphne Odjig 2/The Shaking Tent, 1969_Colection de la Société du Centre du centenaire du Manitoba, Winnipeg
By the mid-1960s she and her husband Chester Beavon had moved to northern Manitoba where he worked as development officer in the community of Easterville, where Cree from the Chemahawin had recently been relocated. She created a series of highly detailed, pen-and-ink drawings depicting community life. She sketched dog teams, cabins, fishing yawls, and such locals as Verna George and Patsy Wood. In an interview with Tawow magazine, she spoke of her concern over the loss of traditional ways of living: "These portraits are not figments of my imagination, they are real people and actual places. These I want to live forever through the medium of art."
Her art changed. She began depicting allegories and legends and illustrated a collection of school readers called Nanabush Tales, published in 1971. Tawow magazine suggested that her acrylic painting Thunderbird Woman (1971) expressed "something of the violence and intensity" of the figure in the legend, who is transformed to a powerful creature, half-woman, half-bird, after being slain by a jealous man. During this period Odjig's style was most closely associated with Norval Morrisseau's; the two, apparently working at first unbeknownst to one another, were seen as evidence of an "emergence" – a cultural shift, a new consciousness. But Odjig soon turned to history, becoming one of the first Aboriginal artists to address the colonial and post-colonial horrors visited upon her people.