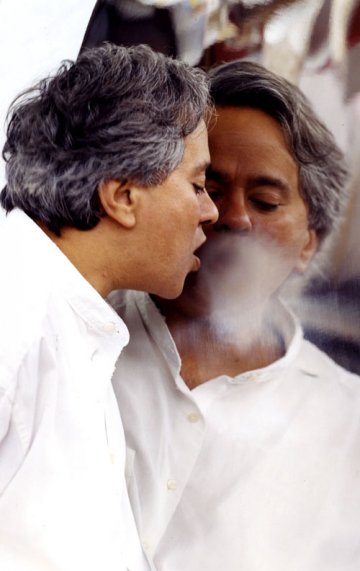 Anish Kapoor
The Metaphysical thinker...
Johanna B., June 27, 2011
Art_Portrait
Anish Kapoor is one of the most influential sculptors of his generation. Born (1954) in Bombay, he has lived and worked in London since the early 70's. Kapoor sees his work as being engaged with deep-rooted metaphysical polarities; presence and absence, being and non-being, place and non-place and the solid and the intangible. Throughout Kapoor's sculptures his fascination with darkness and light is apparent; the translucent quality of the resin works, the absorbent nature of the pigment, the radiant glow of alabaster and the fluid reflections of stainless steel and water. Through this interplay between form and light, Kapoor aspires to evoke sublime experiences, which address primal physical and psychological states.
Anish Kapoor_Svayambh, 2007_Installation Musee des Beaux-Arts de Nantes_Cecile Clos, Nantes
Anish Kapoor studied (before he moved in London at Doon School de Dahra, India) at Hornsey College of Art, London (1973 – 1977) and at Chelsea School of Art, London (1977 – 1978). Kapoor's first solo exhibition was held at Patrice Alexandre, Paris in 1980. His international reputation was quickly established, with an array of solo exhibitions held in countries around the world. Kapoor represented Britain in the Paris Biennale in 1982, and again in 1990 at the Venice Biennale, for which he was awarded Premio Duemila. The following year he won the prestigious Turner Prize Award. Anish Kapoor has recently acted as Guest Artistic Director of the Brighton Festival 2009. Kapoor was elected Royal Academician in 1999 and has been awarded Honorary Fellowships by the London Institute and Leeds University (1997), University of Wolverhampton (1999) and the Royal Institute of British Architects (2001). He lives and works in London.
Anish Kapoor_Marsyas,2002_PV Cand Steel_Installation at Tate Modern, 2003
In 1979, Kapoor travelled to India, where his cultural memories were reawakened leading him to produce works using raw powdered pigment in vivid hues, materials which lent these works with a feeling of inner radiance and dematerialised objectivity. The bearing of Eastern and Western culture has been an inseparable part of Kapoor's practice ever since. Kapoor became established in the international arena during the 1980s, with works that explored his interest in disparate materials and meditative structures. Kapoor has consistenly used a wide range of materials in his practice to call into question the conventional limits of architecture and to deconstruct empirical spaces, by producing forms which open out and extending into invisible expanses. Such works address the corporeal and the infinite, leading the viewer to speculate upon origins and finality.
In recent years, Kapoor has produced works where the conventional dichotomy between surface and depth is collapsed. Many of his recent works achieve this immateriality on an immense scale. Kapoor continues to employ a seemingly alchemical process to establish a feeling of weightlessness on a grand scale through his skilled transformation of materials.