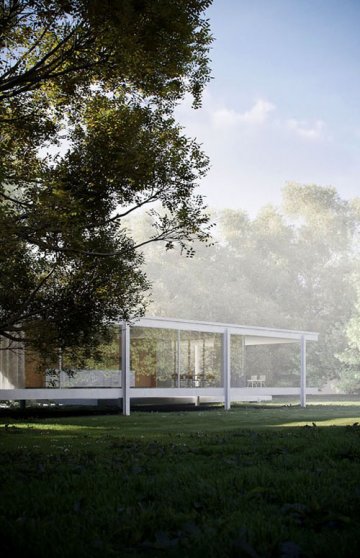 The Farnsworth House
Mies van der Rohe: LESS IS MORE
Z.B., February 10, 2020
HOUSE AS CHOOSEN BY OUR READERS

About the house...

"Every physical element has been distilled to its irreducible essence. The interior is unprecedentedly transparent to the surrounding site, and also unprecedentedly uncluttered in itself. All of the paraphernalia of traditional living –rooms, walls, doors, interior trim, loose furniture, pictures on walls, even personal possessions – have been virtually abolished in a puritanical vision of simplified, transcendental existence. Mies had finally achieved a goal towards which he had been feeling his way for three decades."


"Grand ideas, you know, we keep high in the sky when we are working. We don't want them to come down. We are ourselves surprised at what comes out of it."
– Mies van der Rohe, 1955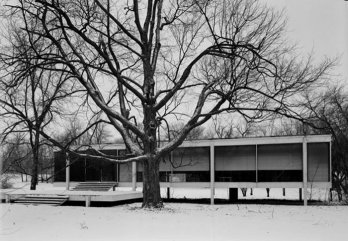 Farnsworth House/Farnsworth House_Plano USA
Built by the great German architect between 1946 and 1951 for Dr. Farnsworth in Plano, Illinois and intended as a weekend escape,
Farnsworth house is a manifesto of Mies' concept of space
, with a free floor plan which is more fluid and functional yet elegant and refined.

The architect did not want any filters between the house and the outside, so he designed it as a glass box immersed in the woods and suspended slightly above ground level on slender steel pillars.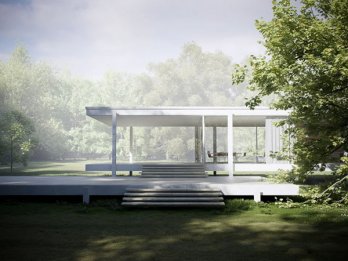 Farnsworth House by Mies van der Rohe_Peter Guthrie_3D MsAISa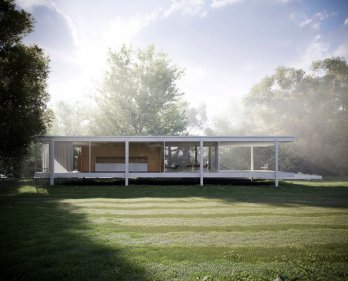 Farnsworth House by Mies van der Rohe_Peter Guthrie