Pierluigi Piu
OLIVOMARE + OLIVINO
P.P., November 9, 2009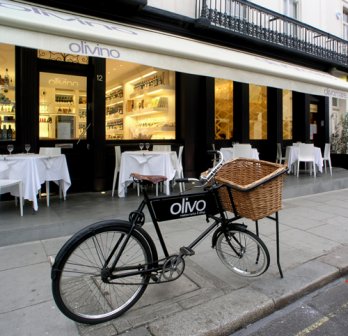 Pierluigi Piu/Olivino
OLIVINO, delicatessen shop - London
OLIVINO is a delicatessen shop complementary to the newly open restaurant OLIVOMARE, with which it shares the appealing aubergine coloured shopfront as well as a graphic taste for its interiors design. Of rather small proportions – if one only considers the part of it accessible to customers – this shop is limited within an about 40sqm room facing the public way. On its left side, as to the entrance, a staircase protected by a full height frameless glazed partition leads to the storage located in the basement and is adjacent to a perimetrical wall entirely covered by a cladding finished with a double layer (white and black) of thick opaque laminated plastic on which has been engraved a decorative pattern of variously oriented bottles and glasses, which highlights the predominantly sold product in this shop, i.e. wine...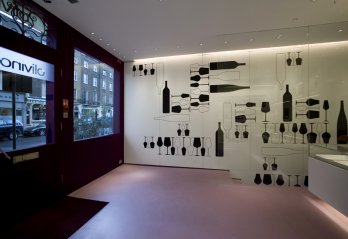 Pierluigi Piu/Olivino_G.Dettori.
...On the opposite side a system of overhanging shelves - laid out on the wall surface according to a labyrinth geometrical scheme – allows, thanks to their recessed linear lights too, to set off the pre-packed goods displayed on them, while not long lasting food needing to be sold in portions is shown in a custom made refrigerated counter which features a lower section covered with white Corian ®, an upper glazed showcase equipped with sliding display trays and a working top made out of a thick solid afrormosia wood board, three sides of which have been squared, while the fourth one has been left as rough as the edge of the tree was.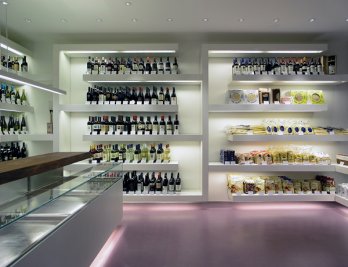 Pierluigi Piu/Olivino_G.Dettori.
This last element, while alluding to the traditional cheesemonger shop because of its "chopping board" look, with its natural appearance also counterbalances the algid uprightness of all other surrounding materials. An heavy-duty stainless steel made back-counter with back lit glazing and shelves, as well as a light purple resin floor, complement all the above described features.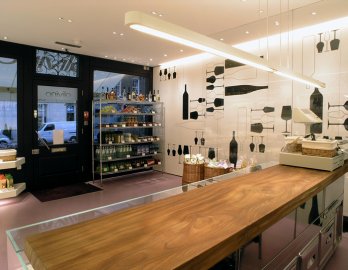 Pierluigi Piu/Olivino