George Nelson
George Nelson - Architect, Writer, Designer, Teacher
J.E. + Vitra Magazine, March 31, 2011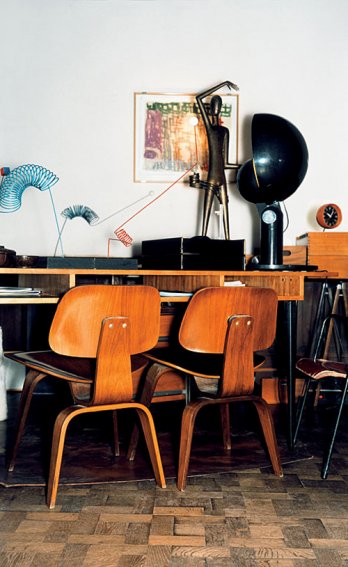 George Nelson2/Desk Clocks, 1947_Isabel Truniger
In the 1950's, Nelson was not alone in his interest in design management but he was among the first to put it at the top of the agenda. In 1952 when Nelson reported for Fortune on the second international design conference in Aspen the theme was the same as for the year before – "Design as a Function of Management."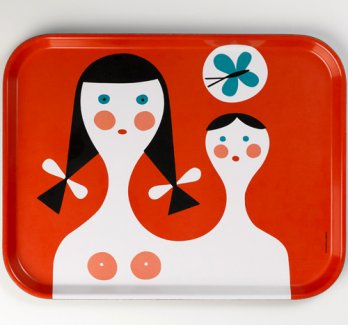 George Nelson2/Charles & Ray Eames, Alexander Girard, George Nelson, 1944_Classic Trays
Although Nelson and his office worked for many companies of which some were very large, it was only with a few medium-sized firms that he was able to put his ideal conception of design management into practice. With Herman Miller, the Howard Miller Clock Company, and aluminium producer Aluminum Extrusions, he met company directors with whom he was able to directly discuss strategic decisions. These relationships between designer and businessman were marked by a deep mutual respect. It was with Herman Miller and Howard Miller in particular that Nelson was able to write design history. In the late 1970s, toward the end of his career, he noted that "one of the constraints on the designer is that he cannot function without a client. The designer needs his client, with whom he forms a symbiotic relationship, in which one pays and the other one spends. All too often, the patron has transmuted into a committee.".
George Nelson2/Nelson Bench, 1946_Lena Amuat.
Exhibition Tour
June 6 to September 29, 2011 - McNay Art Museum, San Antonio, USA
From February 2 to May 1, 2011 - Oklahoma City Museum of Art, Oklahoma, USA
www.mcnayart.org
www.okcmoa.com