George Nelson
George Nelson - Architect, Writer, Designer, Teacher
J.E. + Vitra Magazine, March 31, 2011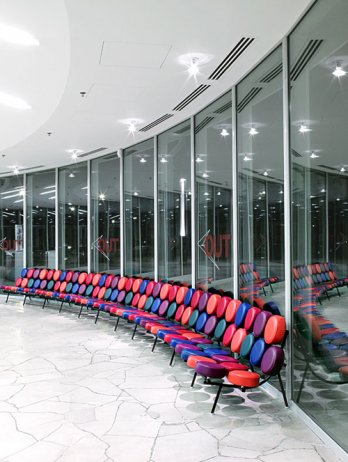 George Nelson2/Marchmallow Sofa, 1956_Ian Bitter.
Two years later, Nelson's first furniture collection appeared on the market with the Herman Miller company. The Slat Bench, which he had originally designed for his office at Fortune, was part and parcel of this. While Nelson used the completion of the Miller collection as the occasion to officially establish his own design office in New York, another of his articles was published in Fortune. This was an extensive and unsparing report on the state of the American furniture industry, which Nelson accused of having backward leanings. His report caused an uproar in this conservative sector.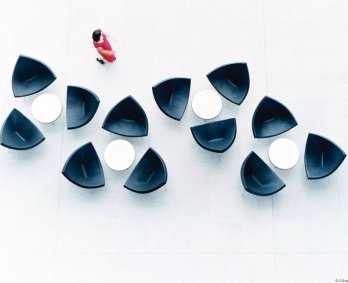 George Nelson2/Coconut Chair, 1955_Liver Jung
In another Fortune article in 1949, Nelson returned to the topic that was so important to him – "Business and the Industrial Designer". He stated that in business the designer with skill and integrity ought to establish a position as a member of a company's policy-making group. Because "it is at this level that the topflight designer can really earn his fee, for his design activity can then be integrated with a long-term, consistent policy he has helped to make. If the designer is to exert a genuinely constructive influence he has to occupy a position in which he can operate over a broad range." With these words Nelson was accurately describing the position that he himself held as design director at the Herman Miller company, where with Charles Eames, Isamu Noguchi and Paul Laszlo he had selected his co-designers and was influencing the entire image of the company through his design of catalogues and advertisements.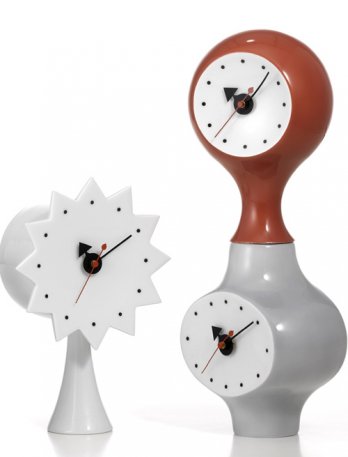 George Nelson2/Ceramic Clocks, 1953_Herman Miller
Even though in the design business Nelson had always enjoyed acting as an outsider and liked to make the claim that it was only by accident that he had become a designer, it was as an insider that he wrote his articles about design by basing what he wrote on his personal experiences. Arthur Drexler of the Museum of Modern Art once called his essays "a sketchbook in which the author has drawn successive self-portraits".