George Nelson
George Nelson - Architect, Writer, Designer, Teacher
J.E. + Vitra Magazine, March 31, 2011
George Nelson2/Daybed, 1948_Melanie Hofmann
The progressive business magazine
Fortune
provided Nelson, who had come to design through his work as a journalist and writer, with a particularly suitable forum. Like the magazines
Time
and
Life
, and the
Architectural Forum
for which Nelson also worked, this large-sized and bulky magazine was part of publisher Henry Luce's media empire. Luce, a Yale graduate as was Nelson, courageously brought Fortune onto the market in 1930 during the Great Depression at the lofty price of one US Dollar. Fortune had its offices on the 50
th
floor of the elegant Chrysler building.
George Nelson2/Nelson Perch, 1964_Vitra Design Museum Archive.
From there, Fortune was aimed at an emergent business elite which Luce regarded as the new American aristocracy. The magazine had the goal of uniting economy with a modern aesthetic and culture – just as Nelson did. Noted graphic designers such as Herbert Matter and Herbert Bayer as well as photographer Margaret Bourke White, also employed by Fortune, contributed to this. With her black and white photographs which are still highly regarded today they even managed to aestheticise views of workshops and production processes.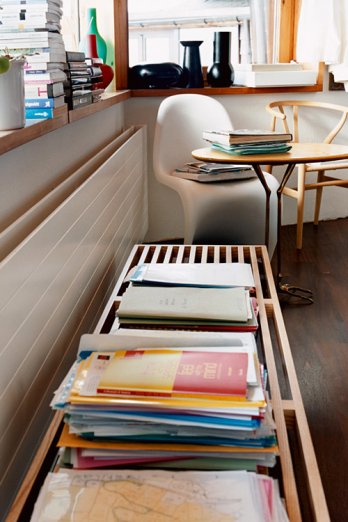 George Nelson2/Nelson bench, 1946_Nicole Bachmann
Nelson wrote his very first "design article" for Fortune in 1934. Here he portrayed the pioneers in this industry while at the same time providing what was probably one of the very first articles to give an overview of the new profession of industrial designer. It was also in Fortune that Nelson published his thoughts on the layout, construction method and technology of the postwar residential building. The cover of that same issue featured a model of the Sherman Fairchild house that Nelson had designed – and the article formed the basis of his bestseller Tomorrow's House, which was published in 1945.