Sirine Fattouh
Lost - Won + The Remake
Stéphanie Dadour, November 2, 2009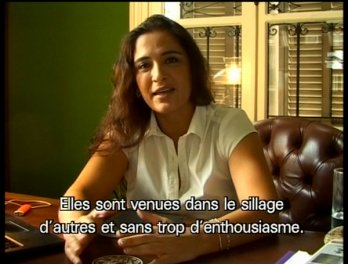 Sirine Fattouh_Fattouh Sirine/Perdu:Gagné, 2009_Courtesy of the artist
If the content of her work might be a useful and interesting corps of study for sociologists or anthropologists, it is important to mention, that the installation per se, is far from being a social work. On the contrary, the artistic value of such testimonies is obvious. The work of the artist implies a deep reflexion on many questions pertaining to her responsibility and her identity.
Sirine Fattouh_Fattouh Sirine/Perdu:Gagné, 2009_Courtesy of the artist
SirineFattouh_Remake, 2008, Liban
A few months later, another video,
Remake
, was projected during the Lebanese Film festival Né à Beyrouth. The term "remake" is generally used in cinéma, in reference to a movie which uses an earlier movie as the main source material. In this sense, this video turns out to be the Remake of the previous project Lost-Won. One man, one setting, four costumes, four different answers: a humoristic video, inspired by the writings of the French philosopher Derrida, where it is difficult to differentiate fiction and reality.
SirineFattouh_Remake, 2008, Liban
By allowing words (language) to speak to us a world in silence, Fattouh's work articulates a critical awareness of the very act of saying-speaking where she illustrates what Paul Ricoeur described as «the biting power of the world of art in the world of our experience». She re-creates her own reality by exhibiting in accordance to her thoughts what seems to be someone else's testimony. Not only does she transcribe these woman experiences but she synthesises them into her own interpretation. The final videos indicate her personal analysis and story, valuable pieces of art that make public very intimate experiences.
www.sirinefattouh.com