Sirine Fattouh
Lost - Won + The Remake
Stéphanie Dadour, November 2, 2009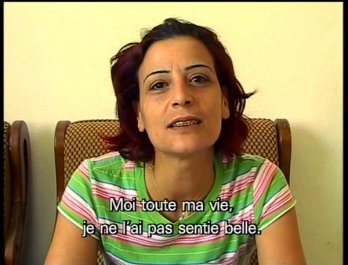 Sirine Fattouh_Fattouh Sirine/Perdu:Gagné, 2009_Courtesy of the artist
At first the artist intended to interview several women each day in order to devote more time to the videos themselves, but she quickly discovered that each meeting developed at a slow pace and this was crucial in allowing these women to open up. The result is a rich mosaic of personal stories. It reveals at once the singularity of each story and the unifying experience of war, love, death, family, men, emancipation and women's condition.
Turning its back on the rest of the exhibition, Fattouh's u-shaped installation leaves a deep impression thanks to the hundreds of Polaroid framed portraits of women. Two plasma screens border the display and project ninety-minute videos.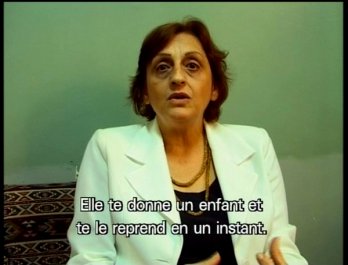 Sirine Fattouh_Fattouh Sirine/Perdu:Gagné, 2009_Courtesy of the artist
Far from being simple interviews, these videos engage certain protocols of action and editing. Hence, as evident as it may seem, it is Fattouh's intention as a woman, as an artist and as a woman-artist to allow these women to address her, and on a wider scale, us, the spectators. However, it is also obvious that these videos relate to her and act as a process where the artist, although behind the camera, tries to establish her own identity as a Lebanese woman.
In fact, the installation projects not only images, but more importantly reveals a reflection and a judgment on what should be transmitted, via this particular format, this particular program that aspires to define the artist's point of view. Although she appears to simply expose the diversity of these women, it is still her perspective that is revealed.
Sirine Fattouh_Fattouh Sirine/Perdu:Gagné, 2009_Courtesy of the artist
The testimonies are all captured according to a certain protocol: the meeting, the close framing allowing us to concentrate on the narrative, the editing. The treatment of the image and the framing position each woman equally and thus, transform these videos into a public platform of expression. The radical style used by the artist and the minimum use of means give it a particular aesthetic, a particular artistic value that engage a political discourse. Yet, the displayed frames soften the brutal aspect of the videos.