2012, International Year of Ecological Design
Hicham Lahlou, Industrial Designer of the Year
Zanoah Bia + Dorinda Bixler, July 2, 2012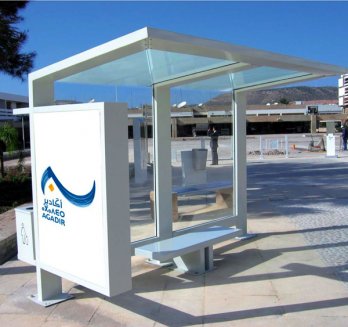 Hicham Lahlou/Abri bus
E.D.: Which city resembles you the most and why?
H.L.:
Agadir, the city where I designed the furniture and visual identity, a project of global design that is a first in Africa and the Arab world and has received the
Label de l'Observeur du Design 2010
E.D.: Your dream project?
H.L.:
Design a watch that would have the power to stop time (when appropriate).
E.D.: What is your favourite example of the use of sustainable products in design? H.L.:
The entirely solar homes or cities that are self-sufficient in energy derived by geothermal, wind or other natural energy...
Hicham Lahlou/Public bench, Agadir
E.D.: What design project would you never design and why? H.L.:
Guns
E.D.: What do you hope your current work will bring to people, humanity? H.L.:
To have things functional and at the same time challenge their everyday appearance
E.D.: What invention would best improve your life?
H.L.:
A nomadic settlement that would move through the air, no need to fly, no need to leave one's family, etc.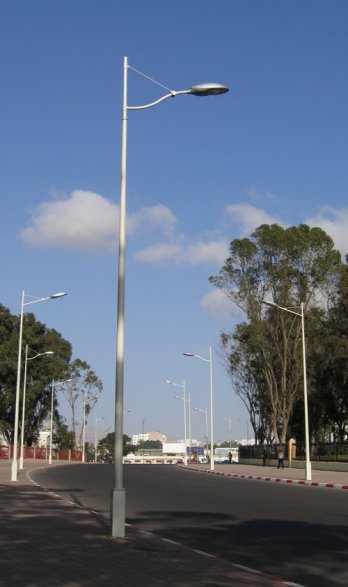 Hicham Lahlou/Lamp posts pure wave technic
E.D.: Can you describe an evolution in your work from your first projects to the present day? H.L.:
I started with a teapot that made me famous in the field. I just kept going with the design of a city, changing it to free the mind and always expanding the horizons.
E.D.: What couldn't you live without? H.L.:
Good food. (Laughs!)

E.D.: Finally, which 21st century architects/designers/artists would you invite to a dream dinner? H.L.:
Jean Nouvel, Ron Arad, George Lucas, John Galliano, Bono, Jeff Koons, Madonna.
Hicham Lahlou/Signature Hicham
www.hichamlahlou.com