MILES in MTL...
We Want Milles: Jazz Face to Face with its legend
Vincent Bessières + Éric de Visscher, May 3, 2010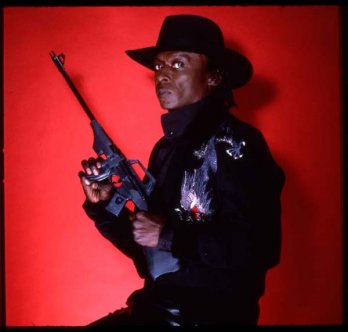 Miles Davis/You're Under Arrest, 1985_Anthony Barboza
On the corner: the funk pulse (1072-1975)
At the core of a group with ever changing members, Miles Davis slid, in the early 1970s, from the nebulous heights of rock to the hypnotic fever of funk. Concerned that he was not reaching the Afro- American audience, Miles looked to the ghetto in order to absorb the sound coming off the street: On the Corner resounds like a manifesto. Always at the cutting edge, the trumpeter connected a wa-wa pedal, like the ones used by guitarists, on his instrument, adopted the electronic keyboard, that he himself played, and punctuated his act with boxing moves – a sport he practiced tirelessly and whose champions he admired. Carried by the riffs of bass guitarist Michael Henderson, straight from the Motown studios, and filled by the electricity of guitarists accustomed to the virtues of distortion and the expressivity of blues, his group spearheaded a deep groovy music with drawn out improvisations, whose original themes and structures, could no longer be discerned.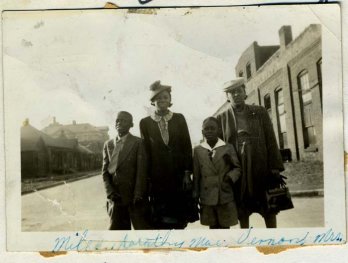 Miles Davis, siter Dorothy Mae, brother Vermon and mother Cleota H. Henry Davis surnamed Mama-Cleo_Anthony Barboza
Silence, solitude, and requiem (1976-1980)
Exhausted by several surgical operations, romantic deceptions, and excesses of various kinds, Miles put his trumpet away and stopped performing in 1975. One of the last recordings he made before retiring is a long piece with funerary overtones, a veritable requiem; a tribute to Duke Ellington who had just died. For long months, worn down by depression, Miles Davis, stayed quietly home. Alarmed by his silence, various attempts to get him back into the studio were made, but it wasn't until 1980 that – with the support of those close to him and alongside young Chicago musicians, including his nephew the drummer
Vince Wilburn – he began to make a come-back.
Star People: the world-wide icon (1981-1991)
Fascinated by synthesizers and the possibilities afforded by new studio technology, Miles reinvented his music-making to fit the times. Taking in the pop music of the moment, without losing sight of blues, he looked for a way to marry contemporary sounds with his three decades worth of experience. His repertoire would include commercial hits (by Cindy Lauper, Michael Jackson, Toto, and Prince), conceived as new standards. The tone of his trumpet became the central element in his records and his concerts became shows led by a close-knit band.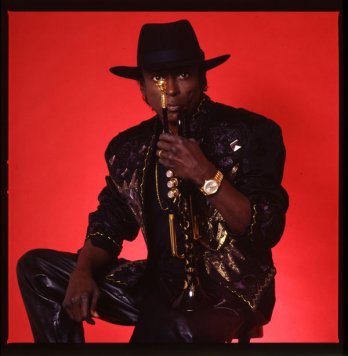 Miles Davis/Album You're Under Arrest, 1985_Anthony Barboza
In 1986, the album Tutu, composed especially for him by Marcus Miller became a world-wide success. The man with a sphinx face had risen from his ashes. Reassured as to his star status, Miles Davis helped forge his own legend and played with his image. He published his biography, took to wearing extraordinary outfits drawn by the greatest designers, exposed his talent as a painter, and made multiple appearances on screen (video clips, talk shows, adverts, movie and small screen roles). His health problems, however, would not let him be. In 1991, for the last time, Miles accepted to go back in time: at the Montreux Festival he again played Gil Evan's scores from the 1950s; in Paris at La Villette, he reunited with old tour partners from different points in his career. He passed away soon after, on September 28. In 1992 the album Doo-Bop – an unfinished collaboration with rappers – came out; posthumous evidence of his burgeoning interest in hip-hop.
www.mbam.qc.ca