MILES in MTL...
We Want Milles: Jazz Face to Face with its legend
Vincent Bessières + Éric de Visscher, May 3, 2010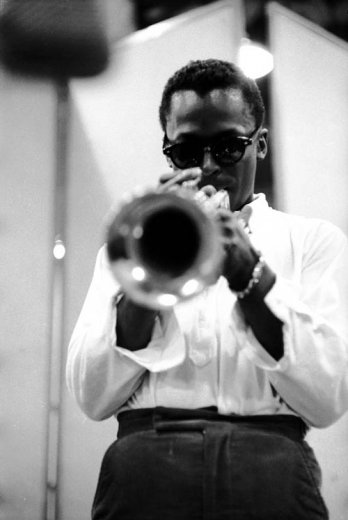 Miles Davis/recording the album Kind Of Blue, 1959_Don Hunstein_Sony Music Entertainement
Miles Ahead : in studio for columbia (1955-1962)
In 1954, aware of being caught up in a circle of self-destruction, Miles Davis quit drugs and took his career back in hand. Following his triumph on stage at the Newport Festival the following year, he convinced Columbia to sign him up and he set up a stable quintet, including John Coltrane, who was then largely unknown. Despite its scandalous reputation, the group made a name for itself as one of the best of its time in just a few months. The musician played off the contrasting personalities of his band-mates and, inspired by the pianist Ahmad Jamal, he finetuned its approach, dramatized its renditions, and developed the modal improvisation epitomized in 1959 with the masterpiece Kind of Blue. At the same time, joining forces once more with Gil Evans, he produced ambitious albums in which he notably revisited Gershwin's Porgy and Bess and Joaquim Rodrigo's Concierto de Aranjuez. His new-found status as a jazz star – conveying a certain elegance and seemingly superior attitude from behind his dark shades – couldn't have set him further apart from the image of the genial entertainer, associated with jazz musicians until then. Nevertheless, in 1959, he was assaulted in front of New York's Birdland Club, by policemen after refusing to walk away. In Europe, where he recorded the soundtrack of Ascenseur pour l'échafaud in 1957, he was unanimously applauded on the greatest stages.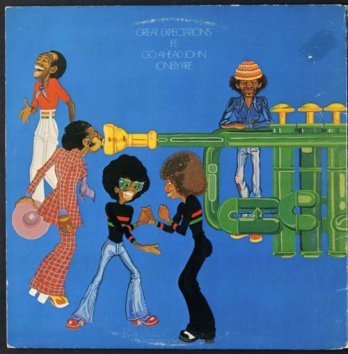 Miles Davis/_Big Fun, album 33 tors, 1974_DR
Miles smiles: controlled freedom (1963-1967)
At the beginning of the 1960s, Miles Davis was faced with a new situation: his musicians began leaving him to pursue solo careers. Forced to find new blood, the trumpeter, showing his characteristic flair, brought in highly gifted, younger instrumentalists, with whom he would chart out new territories. The pianist Herbie Hancock, the drummer Tony Williams, the doublebass player, Ron Carter, and, finally, the saxophonist, Wayne Shorter transcended the rules of ensemble playing, and – spurred on by the trumpeter's directing – abandoned the traditional repertoire in order to invent a jazz that was at once free, intuitive, controlled and edgy; a jazz that differed from the "free jazz" that was developing at the same time. The individual and collective influence of this group would be considerable and act as a precursor to contemporary jazz. While his music brought him international accolade – from Tokyo, to Antibes, and Berlin – Miles Davis's love life saw him living with beautiful black women artists, he made his label put on his record covers. He drove a Ferrari, and distinguished himself as part of show business's black elite, whose limits went well beyond the mere spheres of jazz.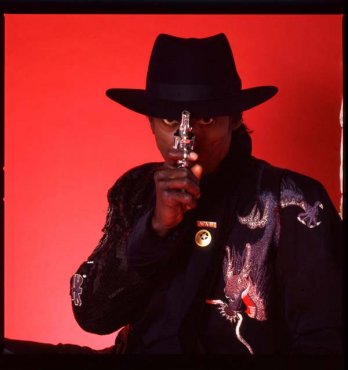 Miles Davis/You're Under Arrest, 1985_Anthony Barboza
Electric Miles: under rock distorsion(1968-1971)
1968 brought its fair share of social unrest, racial tensions, and musical innovation. The musicians surrounding Miles Davis became interested in the new electric keyboards; and he himself began thinking about how to incorporate the rhythms of rock music into his own music, aware as he was of the way in which artists such as Jimi Hendrix, James Brown and Sly Stone were mobilizing whole crowds, while jazz seemed confined to a more limited audience. Always surrounded by the best, (Joe Zawinul, Wayne Shorter, John McLaughlin), Miles "plugged" into this movement, contributing to the emergence of what would become known as "jazz rock", with records that had sleeves bearing psychedelic illustrations and that are, in their way, concept albums. The recording studio became the den in which he elaborated his music, in close collaboration with the producer Teo Macero, who availed himself of all the editing and mixing techniques imaginable. Bitches Brew went gold, marking its time, and Miles Davis played at all the major venues of the rock circuit, like the Fillmore, and the colossal Isle of Wight Festival. In 1968, he married one of the figureheads of the time, the flamboyant Betty Mabry, who would go on to lead a singing career under the name Betty Davis.