MILES in MTL...
We Want Milles: Jazz Face to Face with its legend
Vincent Bessières + Éric de Visscher, May 3, 2010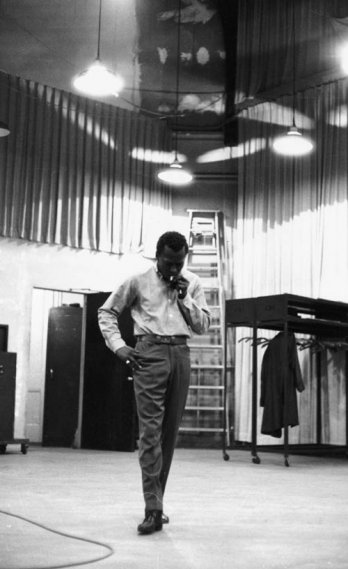 Miles Davis/recording the album Kind Of Blue, 1959_Don Hunstein_Sony Music Entertainement
Almost twenty years after his death, Miles is a benchmark not just for jazz, but for music, and he commands not only respect, but profound admiration. An "icon" for our age, annexed by advertising already during his lifetime, Miles Davis shines on, just as his records have become classics. He was a precursor of contemporary jazz, but more than that: he has been an example for musicians as diverse as Santana, Brian Eno, Laurent Garnier, and Q-Tip, and an inspiration to artists such as the film-maker Dennis Hopper, the choreographer Anna Teresa de Keermaeker, and the painter Jean-Michel Basquiat…
Who isn't a fan of Miles Davis? Who doesn't find a piece that moves him in a body of work so varied and so vast? Everyone has their favorite album, and not least Barack Obama, whose rise to power in the United States casts new light on an anecdote Miles Davis recounted in his biography. In 1987, Miles was invited to a dinner held at the White House by Ronald Reagan. When an old goat asked him, rather condescendingly, what he had done with his life to get invited to Washington, Miles answered somewhat icily: "I've changed music five or six times." This alone calls for an exhibition –
We Want Miles !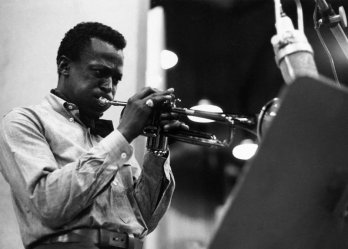 Miles Davis/recording the album Kind Of Blue, 1959_Don Hunstein_Sony Music Entertainement
From Saint-Louis to 52nd Street: the search for Bird (1926-1948)
Born into the black middle class, Miles Davis was brought up in East St. Louis (Illinois) by a father, a dental surgeon, who drummed a sense of racial pride and individual success into him, and a mother, who extolled integration into white society and its values. Going against his mother's wishes, he did not play the violin but the trumpet, the king of jazz instruments. At first influenced by the "St. Louis Sound", a school of trumpeting originating from St. Louis, and to which his mentors belonged, he developed a fascination for bebop, the vanguard jazz of the time, whose leading stars, Dizzy Gillespie and Charlie Parker, he met there in 1944. From then on, his mind was made up: he would join them in New York. Using study at the Juilliard School as a pretext, it wasn't long before he joined Parker in Manhattan, becoming his regular sideman. By his side, Miles Davis performed in the jazz-clubs on 52nd Street, made his first records, invented his own style (that set him apart from other trumpeters) and made a name for himself in the world of music, where he was regarded as a "modernist" for the times.
Miles Davis/with Gil Evans, recording the album Miles Ahead, Columbia Studio, 1957_Don Hunstein_Sony Music Entertainement
Out of the cool: self destruction and self invention (1949-1954)
Collaborating with the arrangers Gerry Mulligan and Gil Evans, Miles Davis directed, from 1948, a group of nine musicians with an unusual instrumentation that paved the way for the next step after bebop. Brought together later under the title Birth of the Cool, these pieces focused on orchestration and gave rise to "cool jazz", that would come into its own in California under the banner West Coast Jazz. In 1949, invited to the jazz festival in Paris, Miles Davis had a fling with Juliette Gréco and discovered in the intelligentsia of Saint-Germain-des-Prés an appreciation of his music that went well beyond what he had known in the United States. Upon his return, he found the ghetto, in which modern jazz remained confined, hard to bear and, like so many others, he spiralled down into drugs. As a reaction to the vogue for cool jazz, considered unexciting and white, he delved back into bebop and blues, while drawing together the new rising generation of hard bop artists. Sonny Rollins, Jackie McLean, Milt Jackson, Thelonious Monk, Art Blakey, Horace Silver – to name but a few – took part in the recordings he made for the independent labels Prestige and Blue Note. Magnifying his sound with a Harmon mute, he forged his style.