MILES in MTL...
We Want Milles: Jazz Face to Face with its legend
Vincent Bessières + Éric de Visscher, May 3, 2010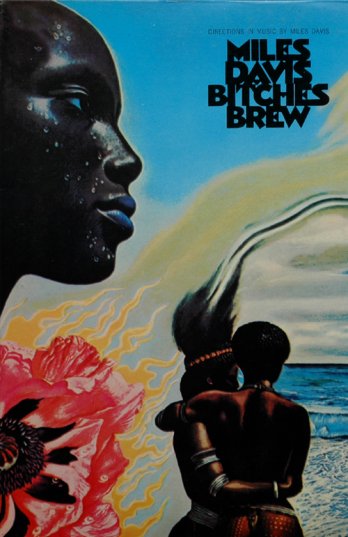 Miles Davis/Bitches Brew album, 1969_DR.
"To be white" or the racial issue
The racial issue was present as an undercurrent throughout Miles Davis' career, regularly provoking tensions that influenced his music. Marked by the context of segregation and a strong sense of pride inherited from his father, Miles Davis's attitude is that of an artist who refused to be considered just by the color of his skin. Defying any kind of ghettoization, surrounding himself with white musicians (often European) who played a decisive role in the evolution of his work, he also celebrated a certain genius in black music, hitting back at the irreverence of those who saw jazz as mere entertainment. Similarly, he was ferocious in his criticism of black musicians he deemed too servile toward white society.
The exhibition includes this dimension of the persona as it overlaps on the development of his music and his relationship to jazz. His whole life Miles Davis was caught between his roots in the music of his kin and his fear of ever getting trapped in that genre; torn between the fundamentals of jazz (in particular blues) and his refusal to consider it a finite musical language. From Walkin' (1954), which resounds like a wake-up call for the black community, to You're Under Arrest (1985), in which he play-acts his control by the police at the wheel of a Ferrari, and from the "African" undertones of Kind of Blue (1959) to On the Corner (1972), which seeks to reconnect with the ghetto, a "black" theme runs through Miles Davis's work; which is not to say it could be mistaken for a kind of negro chant. It constantly goes beyond that, transcending musical boundaries and racial issues (even if the latter sometimes surfaced uninvited).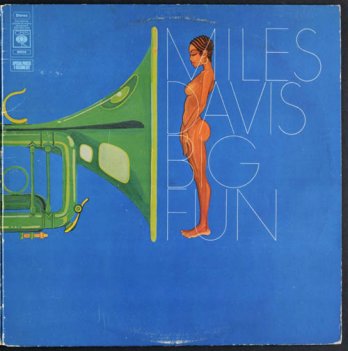 Miles Davis/_Big Fun, album 33 tors, 1974_DR
The assault the musician suffered at the hands of policemen in 1959, in front of a club where he was working, and the resulting scandal, are painful episodes the exhibition evokes. A black artist in an industry dominated by white men, Miles Davis refused to be considered as a second rate musician. He made Columbia put his women in his life – beautiful black women who were a picture of artistic success (the dancer Frances Taylor, the actress Cicely Tyson, the singer Betty Davis) – on his record covers instead of vulgar white playmates. The financial conditions he posed were the object of heated debate, in which the racial question was never not an issue. His passion for boxing – a sport in which African Americans were at the top of the game and that he himself practiced – culminated with him signing, in 1970, the soundtrack of a documentary on Jack Johnson, the first black man in history to become world heavy-weight champion. He was furious when Columbia didn't promote it properly.
That's how Miles was: he never missed a beat, he was in the ring, his wits about him, ready to give as good as he got – and with no small dose of ambiguity, as can be seen from Baroness Pannonica's notebooks, which are presented at the exhibition. A patron of jazzmen, she took to asking them what their "three wishes" would be regarding their situation in life. Miles gave this individual, laconic and cynical answer: "to be white."
Miles Davis/_Painting by Mati Klarwein used for the album Live - Evil, 1971_Galerie Albert Benamou
From Miles to Obama
By the way in which he embraced his times, his capacity to reinvent himself and his art, the density and profusion of his work, the unfaltering and resounding influence of his music on the rest of jazz, and his ingenious intuition, and because of the legend of his own life and all the phases that marked his creative itinerary, we are tempted to think of Miles Davis as the "Picasso" of jazz – an exceptional artist, without whom the face of twentieth century art would not be the same. We speak of "Miles" like we speak of
"Picasso" and a whole oeuvre is before us.