MILES in MTL...
We Want Milles: Jazz Face to Face with its legend
Vincent Bessières + Éric de Visscher, May 3, 2010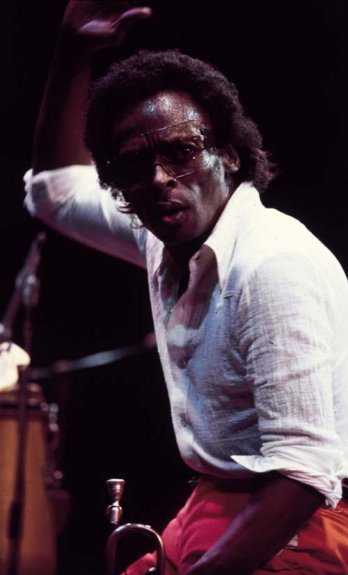 Miles Davis in concert at Ahmonson Theatre, Los Aneles, May 1973_Urve Kuusik_Sony Music Entertainement
"Directions in music": Miles or Jazz on the move
Miles Davis (1926-1991) is one of the most fascinating characters in the history of jazz. Whilst the majority of jazz's great names developed a musical language they spent their whole lives exploring (Thelonious Monk, Charlie Parker) – be it in the most absolute of ways (John Coltrane) or in a way that could be seen as forming one cohesive body (Duke Ellington) – Miles Davis never stopped calling his music into question and, in what was often a visionary move, provoking his own revolutions at a startling pace (almost every five years). From his first contact with bebop in the middle of the 1940s right up to his experimenting with rap at the twilight of his life, the trumpeter continued to work with different musicians, scouting up uncharted sounds, sometimes at the risk of alienating a portion of his fans. At the very heart of the history of jazz, where his path crossed those of so many major musicians, Miles Davis is one of the great architects of the genre by virtue of the essential "monuments" he built up; milestones in the course of twentieth century popular music. Miles Davis had a flair for new trends and his ability in integrating them, feeding the finest contemporary sounds into his own creativity, thanks to an acute awareness of his environment.
Miles Davis swiming, 1988_Anthony Barboza.
The aura of a legend
A woman's man, an enigmatic character, oscillating between strokes of genius and furious outbursts, a "glamorous" figure in some respects, Miles Davis spun his own legend. The author of a surprisingly frank autobiography, whose opening pages are presented in the exhibition, he forged his image in much the same way he crafted his music, becoming a star before rock stars made it an obligation to be one. At each stage in his artistic development, Miles Davis enriched his biography with anecdotes and episodes that make his life one of the most colorful in the history of jazz. His relationships with leading ladies, his escapades, his detached attitude, his provocative declarations, his bad reputation linked to drugs, his taste for the finer things in life including sports cars, his various – and sometimes extravagant – image changes, as well as his demanding nature, all fueled the myth that fascinated the public. He turned the bandstand into a new kind of stage.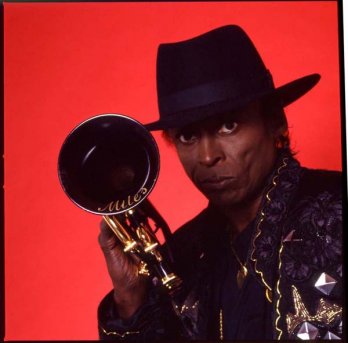 Miles Davis_Album You're Under Arrest, 1985_Anthony Barboza
The archetypal jazzman in dark shades, as inaccessible as he was elegant, Miles Davis was, in the eyes of the twentieth century, the embodiment of coolness. The word "cool" is both inextricably bound to his music – a dismissal of urgency, a sense of less-is-more, a contained lyricism – and to his attitude. On stage, in the studio, while socializing, or in front of journalists, Miles Davis made his presence felt without ever giving much away. Beneath the cool exterior, there was a volcanic temperament; he had a way with words and a dry sense of humor, mixing colorful language and pithy retorts to provide some classic repartee. This multi-faceted man is one of the most fascinating heroes in the whole history of music. It is impossible to discuss his art without evoking the aura that emanated from him, because that aura is part and parcel of how he went down in history. Photography's greatest names tried to capture this impression he gave from all angles and, from the inventors of the black and white imagery of jazz (Herman Leonard, William Gottlieb, Bob Willoughby, Ed van Der Elsken), to the leading photographers of the 1960s (Dennis Stock, Lee Friedlander, Amalie Rothschild, Baron Wolman), to the "jazzmen" of the profession (Guy Le Querrec,), and the greatest contemporary portrait artists (Anton Corbijn, Annie Leibovitz, Irving Penn), the exhibition shows these pictures.