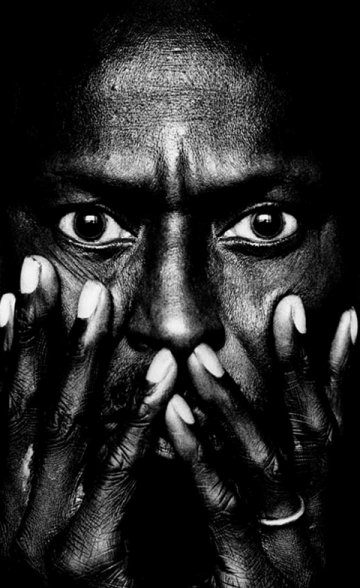 MILES in MTL...
We Want Milles: Jazz Face to Face with its legend
Vincent Bessières + Éric de Visscher, May 3, 2010
"One thing I do know is that the year after I was born a bad tornado hit St. Louis and tore it all up. (…) Maybe that's why I have such a bad temper sometimes; that tornado left some of its violent creativity in me. Maybe it left some of its strong winds. You know, you need wind to play trumpet. I do believe in mystery and the supernatural and a tornado sure enough is mysterious and supernatural"
Miles Davis
With this exhibition, the Museum pays tribute to Miles Davis (1926-1991), one of the twentieth century's greatest musicians. The multimedia retrospective (musical excerpts, film and documentary clips, drawings by Miles Davis; paintings by Jean-Michel Basquiat and Mati Klarwein; photographs by Annie Leibovitz and Irving Penn; costumes, musical instruments and scores lent by the Davis family, etc.) recalls the highlights of his life and career, including his memorable concerts in Montreal.
It is an unusual encounter with a complex and committed character, a man of darkness and light, a protean artist, a creative genius who said of himself in 1987 that he had "changed the course of music history five or six times." The scenography, entirely designed around Davis's music and the visitor's listening comfort, includes recordings of the most iconic pieces by this legendary figure, who still arouses passionate admiration and whose influence goes far beyond the boundaries of jazz.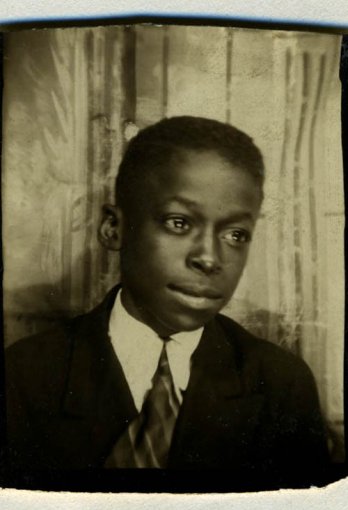 Miles Davis at 8 or 9 year old_Anthony Barboza
Sixty years after his first trip to France to perform at the Salle Pleyel, fifty years after recording his masterpiece
Kind of Blue
(Grammy Award winning and best selling jazz record of all time), and the magnificent
Sketches of Spain
and forty years after the revolutionary
Bitches Brew
, the Montreal Museum of Fine Arts presents (a first one in North America) an ambitious retrospective devoted to one the greatest music makers of the twentieth century: Miles Davis (1926-1991). This exhibition was designed and organized by the Cité de la musique, Paris, with the support of Miles Davis Properties, LLC, in collaboration with the Montreal Museum of Fine Arts.
Following several years of silence out of the public eye, Miles Davis came back in 1981 with the album
The Man with the Horn
. Shortly after, his come-back was confirmed by a live album aptly named
We Want Miles
– a title that reminds us how eagerly he had been awaited by his fans. In tribute to the passion the musician inspired throughout his whole career, the Musée de la Musique's first exhibition devoted to jazz bears the same title as the album that emphasized his return on the forefront of the scene. Almost thirty years later, this title, acting like a slogan, is at once an invitation and a wish. An invitation to rediscover the music and measure the immense talent of an artist who never ceased to question the boundaries of jazz. A wish to better understand the man's complexity as well as his musical genius and mystery, a man who forged his own image throughout his lifetime.
We Want Miles: jazz face to face with its legend.

Miles Davis at his house, New York, 1969_Don Hunstein_Sony Music Entertainement
Looking for miles Davis : How do you show music?
Imagining an exhibition on an artist with the stature of Miles Davis poses a twofold objective: first, to make the most significant aspects of his work heard and, secondly, to display the objects that bear witness to his artistic development. Reflection on the quality of the sound was therefore an important issue for this exhibition, which led the Projectiles team to produce an original solution: the "mutes". Reflection on how to exhibit musical objects was an equally complex matter, given the absence of a real museographic institution anywhere in the world devoted to jazz in general or to Miles Davis in particular. Very enthusiastic for this exhibition, Miles Davis's beneficiaries had however no detailed inventory of what was in their collections, and it was only by going to the relevant locations and launching out on an exciting treasure trail and opening boxes and drawers – often left untouched since the demise of the musician – that we were able to bring to light numerous artifacts that would be shown to the public for the first time.