ARTĚL
Art for Everyday Use (1908-1935)
DMG, October 19, 2009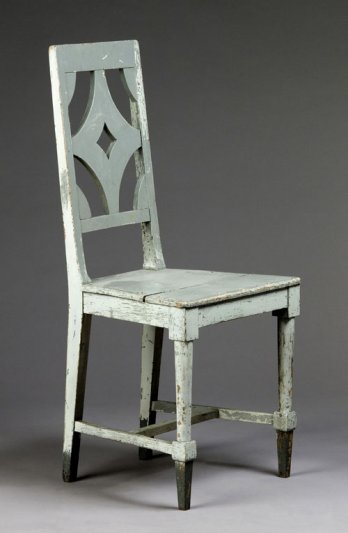 ARTĚL/Chair, 1922_UMP (Museum of Decorative Arts) in Prague (CZ)_Gabriel Urbánek - Ondřej Kocourek
Initially, the cooperative drew on the reformist tradition and on the values of handcraftmanship, and focused on designing and manufacturing "minor art for everyday use" – small functional and decorative items made of wood, ceramic, metal and other materials. Over the years, it extended its activities to include comprehensive designs of private homes and commercial spaces. During the brief prewar period of 1911-1914, a distinct Cubist-Expressionist tendency took hold in Artěl's production, through the designs and theoretical studies of architects Pavel Janák and Vlastislav Hofman. Those years saw the creation of unique Cubist objects made chiefly in ceramics. With the establishment of an independent Czechoslovak state, the association joined the general quest for a distinctive national style, represented by the decorative art movement of the 1920s. Even in the postwar years, Artěl continued to be attracted to the legacy of Cubist experimentation, with a prevalence of geometric patterns and a tendency toward sparse form. In 1927-1930, under the guidance of Jaroslava Vondráčková, Artěl's creative output was influenced by Functionalism.
ARTĚL/Crystal-shaped box_Pavel Janák (CZ), 1911_by Graniton, Rydl & Thon in Svijany-Podolí (CZ)_Gabriel Urbánek - Ondřej Kocourek.
In 1920, the cooperative changed its status to a joint-stock company, renamed Artěl, Decorative Arts Enterprise, Joint-Stock Company, Prague. In doing so, the company was responding to the postwar developments in the field, in an effort to move away from studio-type craftwork toward a modern enterprise capable of handling major assignments (e. g. the furnishing of thirty rooms of the state-owned Hviezdoslav hotel at the Štrbské pleso resort in Slovakia's High Tatras in 1922), with the support of the industrial production. Artěl also participated with success in various exhibitions at home and abroad (notably, the international decorative arts exhibitions in Monza in 1923 and Paris in 1925), works and treatises of its members were published in the period press. From the mid-1920s, the joint stock company met with financial problems and in 1935, under the pressure of the economic crisis, Artěl was wound up.
ARTĚL/BOX_Václav Špála (CZ) for Artěl, 1921_Gabriel Urbánek - Ondřej Kocourek