F.C. Gundlach
The Photographic Work
Klaus Honnef + Hans-Michael Koetzle + Sebastian Lux + Ulrich Rüter, September 14, 2015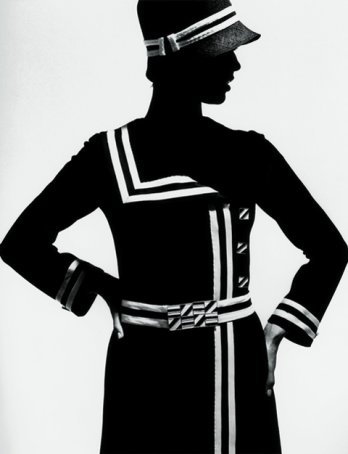 Op Art Silhouette_Jersey coat by Lend, Paris 1966_F.C. Gundlach.
His fashion productions took him both to Paris and New York and to Egypt and Morocco. This multiple printed photographs were been to special motifs in his work. F.C. Gundlach's impressive travel reportages occurred amongst others in Argentina, Brazil, Peru, Japan, Cambodia, Thailand, Vietnam and will be present in Berlin the first time. Original documents of his vita illustrate the life of the photographer. Moreover, the show illustrates the internationalization of his work due to extensive traveling. Documents and archival material give a brief outline of the artist's life and work. F.C. Gundlach himself has comment his functioning in a 60 min. interview-film, which was exclusively produced for the exhibition by filmmaker Reiner Holzemer. The exhibition presents: a life's work of photography between documentary representation and staged artificiality, between practical and experimental photography.
Simone d'Aillencourt_Sheath dress by Horn, Berlin 1957 In Film und Frau, issue Frühling-Sommer_F.C. Gundlach
F.C. Gundlach, born in 1926 in Heinebach (Hesse), is considered the most significant fashion photographer of the young Federal Republic of Germany. For more than four decades of fashion photography, he wrote fashion history with his work and shaped the perception of fashion in Germany decisively. He set the stage for the ever-changing vogues, defined postures and gestures of models, chose props and locations and thus reflected the ideals of beauty and the history of fashion against a changing social background.
Slow_Karin Mossberg, Nairobi, Kenya, 1966_Brigitte, issue 9, 1966_F.C. Gundlach
F.C. Gundlach worked on assignment for various magazines. His first publications were reportages, theatre- and movie reports. Through his work for the magazine Film und Frau he became a fashion photographer. His photographs have been published in many distinguished magazines such as: Deutsche Illustrierte, Stern, Revue, Quick, Elegante Welt, Film und Frau, Annabelle, Brigitte, Twen and Deutsch. For Brigitte alone F.C. Gundlach photographed more than 5500 pages as well as about 180 magazine covers.