RAOUL DUFY
Ceramics
Gérard Landrot, commissaire-curator, August 10, 2009
Raoul Dufy-Llorens Artigas_Black vase with elephants, 1925
Due to their originality, their refinement and their vague similarity with toys, the 'apartment gardens' fascinate audiences and critics alike, even more so than the vases. Fashioned from Toul earth, these stanniferous faiences are baked two to three times in Artigas's furnace, which represents a formidable challenge for the least homogenous shapes. Even if we do know that, regarding art, Dufy never accorded any precedence to any value, that he was equally passionate about and attentive to all of his decorative works, and that he always expected the same satisfaction, it is still remarkable that an artist was able to express the essence of his creative vision with such force and so few elements. What is fascinating about Dufy's work, of course, is the imagination and liberty of his stroke, but also and most importantly the prodigious presence of colour, a presence which is so strong that it already 'exists' in a black-and-white drawing: it is felt, it is predestined exactly as in children's colouring books where each distinct plain of the drawing awaits colouring, and indeed demands it. This colourful exuberance is particularly felt in his pottery as he is using a material he had never before used, but the pleasure he receives from searching and finding new tones and applying the smooth, gleaming, voluptuously carved enamels remains palpable.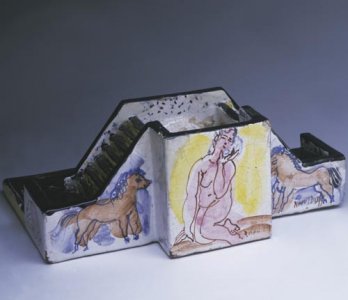 Raoul Dufy-Llorens Artigas-Nicola Rubio_Small garden miniature (horses and Amphitrite)
It bears admitting that the Artigas – Rubio – Dufy association worked out marvellously, and the exhibition of the gardens at Bernheim Jeune in 1927 and later in Belgium and England is therefore greeted with resounding success. When Dufy declares: "decoration and painting stem from the same source.", he not only confirms the uniqueness and indivisibility of his art, but he also implicitly acknowledges the debt he owes to those who have aided him in tracing a common trajectory towards a global art where the hierarchy of the plastic values is excluded from modern times once and for all.
Thanks to his graphic virtuosity, Dufy has helped and prepared Artigas in surmounting the innumerable obstacles presented by ceramic decoration, which would later help him in creating monumental works of art with his friend Joan Miró, works which required technical and even acrobatic prowess. Thus, Artigas, by introducing Dufy to the malleability of earth and the capriciousness of fire, has allowed Dufy to refine his artistic thinking and to visualize new elements in the construction of his unique and highly distinct pictorial language.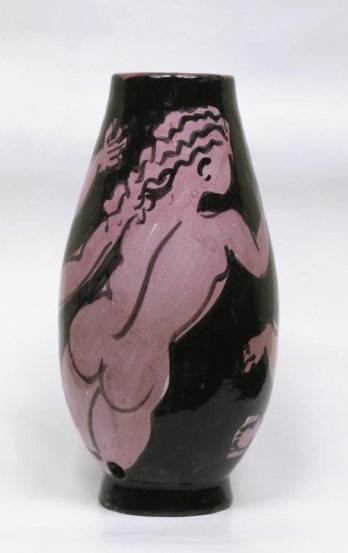 Raoul Dufy-Llorens Artigas_Vase with fuchsia women bathers on black base
While ceramics may be but one of the facets of Dufy's creation, he practised it for a sufficient length of time – from 1923 to 1930, then from 1937 to 1939, all in all some ten years – to integrate it harmoniously into the entirety of his work. The rotundity of his vases and the complexity of his arches, his stairs and his fountains coaxed him into rethinking his drawings and applying them onto uneven surfaces and at the same time drove him to renew certain themes which are ubiquitous in his work, only now visualized in three dimensions. He who has never, it seems, crafted a sculpture obtains the luxury of being able to 'circle' around his creation, thus escaping the exclusive condition of painting in order to elevate himself to the level of creator of worlds. Even though this part of his work spent some time in purgatory, and even though he found precious few galleries or museums prior to his death in 1953 outside of Bernheim willing to exhibit his work, it is now present in the majority of retrospective exhibitions dedicated to the painter.
It is certain that, in the wake of Gauguin, Dufy was a pioneer in the field of pottery as, both by the consistency and longevity of his work as by its originality, no painter before him has succeeded in transmitting to us a work which is so diverse, condensed in a single stylistic unit of perfect elegance. It is with this same regard for elegance that Design museum Gent will display all summer long an exhibition of these masterpieces made from earth, colour and fire.
design.museum.gent.be