The Office of the future
NET NEST, a living space
Wolfgang Scheppe, January 15, 2020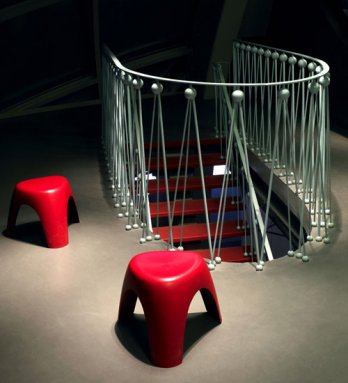 ASBL Atomium.
After the launch of Metropol – the first office furniture system developed directly by Vitra, in collaboration with Mario Bellini – the 1992 introduction of the Ad Hoc system designed by Antonio Citterio constituted the next major breakthrough. Rigorous to the core, Ad Hoc is based on a complex array of components that can generate an infinite number of combinations, express new architectural standpoints and fulfill ever-changing organisational requirements in the workplace. It has been continually developed and expanded over the years and remains a source of fresh momentum in the office. Conceived as an open organisation of diverse modules, it has been able to adapt to changing demands and successive generations of technology.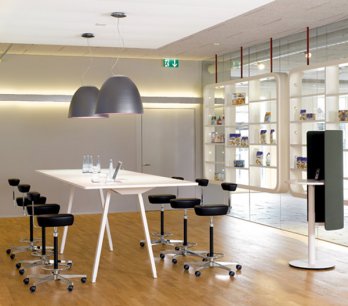 HUG AG_Marc Eggimann
Yet alongside this,
Vitra
simultaneously initiated free-ranging explorations on this topic within the framework of a research project. Led by the Vitra Design Museum, the pro-ject brought in three renowned Italian masterminds of design and architecture, each with a very different ap- proach: Ettore Sottsass, Michele de Lucchi – both of whom had worked for many years on the design of office furnishings and office equipment – and Andrea Branzi, who came to the topic of the workplace as a theoretician. The project was named Citizen Office to signal its central aim of cultivating a new profile for the office as an urban sphere of living and as a meeting place for self-determined, independent individuals. Emanating from ideologies of control, authority and standardisation, the earlier hierarchies of Taylorism – which had been obsolete since at least the 1960s – were countered by the paradigm of a free office citoyen. The utopian imaginings addressed such categories as variability, mo- bility, atmosphere, desegmentation, transformation, demystification and nomadism. Models were developed along these themes with a real world applicability aided by input from Siemens, which collaborated with the exhibition organisers to assess the feasibility of the technological visions. In considering the workplace, Citizen Office proceeded from an examination of urban life rather than taking the office itself as the starting point. Looking back, the approach of the project with its acceptance of complexity is an astoundingly accurate anticipation of the transformation currently taking place.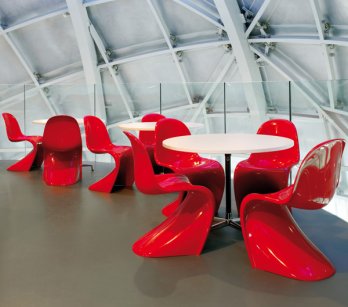 ASBL Atomium.
In 2000, Vitra started work on two groundbreaking lines of development, both of which drew on basic research into the office of the future. The Network Office was an extensive in-house experimental programme designed to accommodate most of Vitra's varied administrative activities, while the Joyn furniture system was conceived as a model that would challenge all previous ideas about offices. Both of these forward-looking visions typify the character of Vitra, as both ventures are quintessential interpretations of the collage concept.