Émile Hermès
Craftman of French luxury
P.E.H., October 10, 2017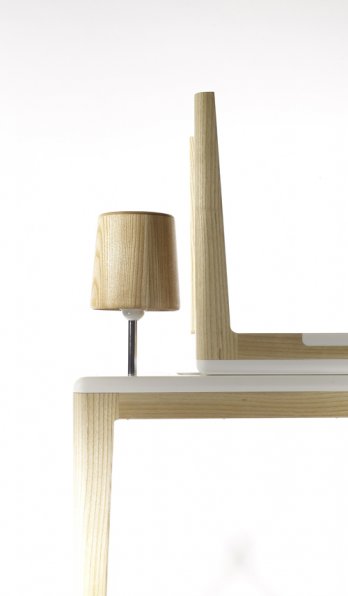 Jarl Fernaeus_Glacier Hallway Group, 2008
An active social life and humanist approach allowed this dynamic director to weave many creative bonds with artists from all walks of life. Embracing the effervescence of Parisian life, he successfully diversified, making for an original product offer. In exploring "saddle-stitched" leather goods, the Hermès name added new travel, sport and automobile accessories to its already established bags and luggage. It also acquired an original standing in couture, alongside the greats, by developing an active, modern femininity. Émile Hermès always demanded perfection, finesse and close attention to detail in choosing materials and in craftsmanship.
Gradually opening multiple personalised branches, Émile made Hermès a "multi-local" brand present in Deauville, Le Touquet, Biarritz, Cannes, Évian,Vittel and New York. In 1949, the Cannes store introduced the now famous Hermès tie. A natural globetrotter, Émile Hermès developed "a deep understanding of everyday needs when travelling" and became the select specialist of an elite hungry for escape and adventure. He seduced this cosmopolitan society, which was deliberately blasé and flinched at the very mention of the commonplace, with his ingenious ideas: the fold-up toiletry case, book trunk, record trunk, fold-up travel sewing kit and Bradka shoecase. His sea trunks became a landmark of the modern elegance that triumphed aboard the large liners of the time.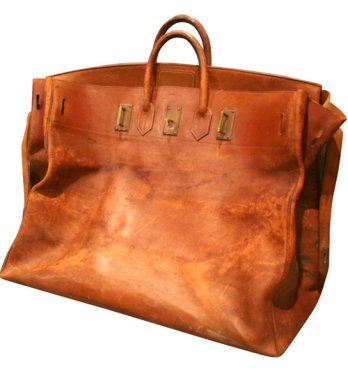 Giant Hermès Birkin Leather Travel Bag, 1940
The yachting craze also inspired in him a series of objects, astounding feats of balance and intelligence: a tray table for cocktails designed not to tip over, a set of bottles and glasses also designed not to tip over, a yacht or beach chair forming a suitcase, pipes and lamps with built-in wind-and-storm protection. Automobile comfort proved to be the pretext for some of his most brilliant creations: trunks, suitcases, a tin trunk equipped with electric lights, thermoses, clocks, a card case and comfortable blankets with zip pockets.All these objects were designed to make the car "a road yacht, a little living room that goes eighty an hour".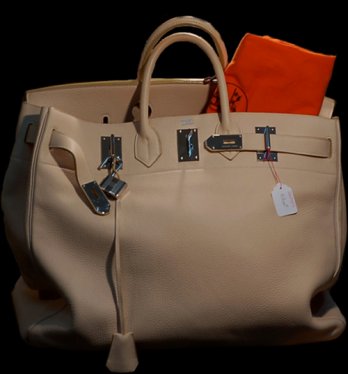 Hermès birkin grand model ivoire
Émile Hermès was the catalyser of each of these amazing inventions, directing production according to a rational, simple, studied style according to the specific activity or sport. For each object, the Hermès workshops were strong in their resolve to meet the equation of comfort and solidity combined with style and imagination. Hence, Hermès'"future classics". Nevertheless,Hermès was not impervious to the Great Depression of the 1930s. The company had to close its New York store in 1931. Be that as it may, these difficult times revealed the drive of the House and its ability to create "tried-and-true" objects. "In periods of financial crisis, an instinctive desire surfaces for genuineness in all things. This desire instils cheap junk with its true value" wrote Paul Iribe, author of Défense du luxe, printed by Draeger Frères in 1932. During these years, Hermès creations bore the mark of a strong identity, with the saddle craftsman returning to his roots and focusing on his background in a spirit combining economy of means and "clear solutions" to the needs of the day. During this time, he came across the work of decorator Jean- Michel Frank, who achieved perfect simplicity in understated luxury.