Émile Hermès
Craftman of French luxury
P.E.H., March 11, 2019
La maison Hermès breaks its sales record for 2012, despite the current economic crisis.
Who said anything about a financial crisis? Hermès exceeded its forecasts in 2013, and just announced a new total amount record, 2.84 billion Euros.

Whereas Hermès encountered a serious stock issue, leading to a big number of waiting lists all around the world. Patrick Thomas, CEO of Hermès, said that the sales amount could have been bigger if they didn't have this problem. But he is really optimistic and believes firmly that this amount will rise to 3 billion Euros in 2013, which would be an absolute new record. Sales rose up in every sector (leather craft, textile, watch making…) and in every country, except for Japan (-1%).


The biggest increase in sales was for China, which recorded a 36% rise for its Hermès sales. China is definitely the best country for every luxury brand investments, and Hermès plans to build 3 shops in China during 2013. USA (26%) and Europe (16%) recorded pretty good increases as well. In order to settle the stock issue, Hermès plans to increase strongly its production, that's why they are going to implant two fabrics for leather craft in France, invest a lot more for watch making, and increase its textile production by 20%.
In all, it was a very good year 2011 for Hermès, and we can assume that it will be an even better one in 2012. Life is great for the famous Birkin bags creator.


PORTRAIT

Émile-Maurice Hermès was born on 18 December 1871 in Paris where his grandfather, originally from Krefeld (Germany), had founded a harness and saddle manufacture in the Grands Boulevards district in 1837. Émile became interested in the family business at a very young age.At just twelve years old, he purchased an unusual switch containing an umbrella from an antique dealer: A collector was born. His passion for refinement and ingenuity remained with him throughout his life. In 1880, Hermès moved to 24 Faubourg Saint-Honoré. During an apprenticeship, Émile met and became friends with Louis Renault, future automobile designer and manufacturer.An enthusiast of the Belle Époque and its marvellous inventions, he took business trips to Eastern Europe and Latin America, and returned with the idea for the sac à selle, the first Hermès bag.
Twilly en soie de Hermès
Manager of the export division alongside his older brother, Émile Hermès married Julie Hollande, the daughter of an exotic wood importer from the Faubourg Saint-Antoine, in 1900.He soon had four little girls whom he enchanted and enthralled with his wonderful ideas and inventions. From 1902 to 1919, Émile was an associate of Hermès Frères,which built up its internationally renowned saddle division, although the company always kept an eye on advances in the automobile and luggage industries. Back from the war, Émile Hermès took hold of the reins of the company and began to steer it in new directions. From this time forward, his life became one with the company's. A maestro of style and a pilot of daring yet carefully thought-out diversification, he sat on the board of directors for thirty years.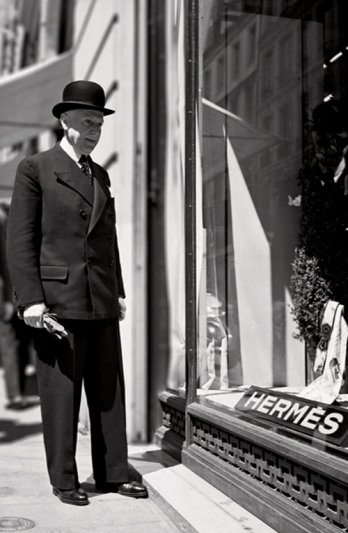 Emile Hermès_Roger Schall
In 1919, he deposited his first invention patent and began looking into new saddle-making techniques. He was the first in France to introduce the zip, which he boldly adapted to leather goods and couture, assuring the success of Hermès by dazzling the fashion world. Named "chevalier de la Légion d'honneur" in 1923, Émile Hermès bought the building at 24 Faubourg Saint-Honoré. Between 1924 and 1926, he launched a construction plan that turned the family manufacture into a beautiful neoclassical house with a light, wellorganised boutique and a large display window exhibiting exclusive new products, of which the saddle-maker was the sole specialist. The upper floors housed workshops dedicated to leather goods, couture, silver work, trunks, travel bags, dog collars and belts. The third floor, between the boutique and the workshops, harboured Émile Hermès'office; the collector gradually created a true "Museum" of equine transport, which he enjoyed showing his workers as much as he did his clients.