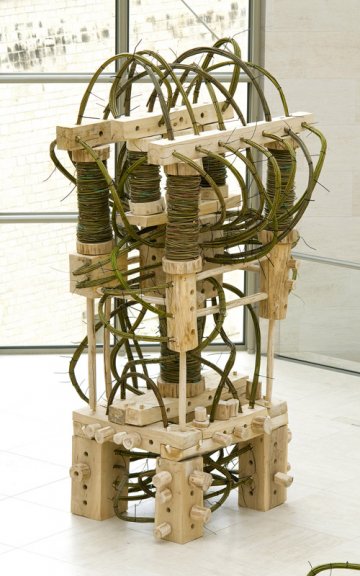 Nikolay Polissky
Large Hadron Collider
Valerio D'Alimonte, July 6, 2009
In 1990, Nikolay Polissky (born in Moscow in 1957), a ceramist by trade and predominantly a landscape painter, moved to the small abandoned village of Nikola-Lenivets (literally Nicholas the Lazy), in the region of Kaluga, approximately 200 kilometres from Moscow. He forged a close alliance with the villagers there and started working on artistic projects involving Land Art, architecture and walk-in sculptures. Over time various tower-like structures have come and gone, some taking on the Babylonian shapes of the ziggurats, others evoking medieval fortresses, another the famous broadcasting towers of Moscow, etc. These projects, carried out with natural materials sourced on the spot, integrate into the landscape and anchor themselves within a territory. Above all, they are characterised by a community dimension essential to the artist, both in their implementation and the use that they provide.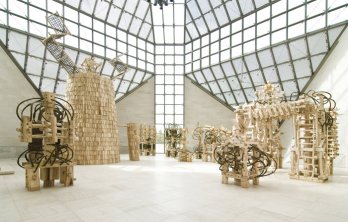 Nikolay Polissky/Large Hadron Collider, 2009_Andres Lejona
They are ephemeral works, evolving according to the seasons, as they decay and are recycled, even set alight to mark popular celebrations such as Mardi Gras. Beyond this transitory existence, however, they remain etched in the collective memory and embody a form of social utopia. Polissky's projects in this village have resulted not just in an increase in activity but also in other artists taking up residence. Furthermore, 2006 saw the creation of the international architecture festival ArchStoyanie, enabling this rural province to enjoy a cultural upswing.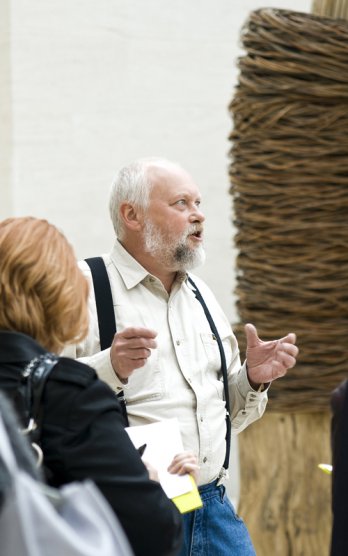 Nikolay Polissky_Andres Lejona