Nature in a Kit
Nature and its double
Chantal Prod'Hom + Magali Moulinier, July 6, 2009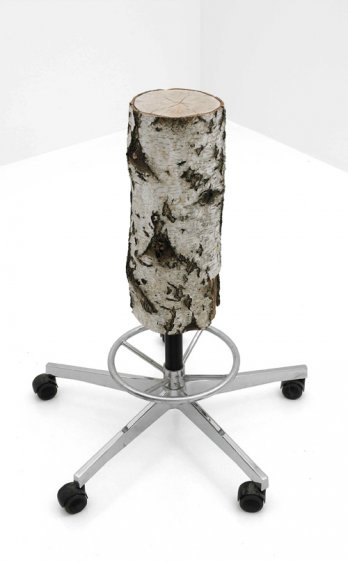 Peter Marigold, Flauna Plain, 2007_Fat Galerie
Further on, like a dialogue between heaven and earth, ethereal and solid, clouds, rocks and pebbles announce themselves as a major source of inspiration for numerous artists and designers in an endless variety of lighting, pouffes and cushions.
Gudrun Lilja - Studiobility, Rocking Beauty, 2006, fauteuil à bascule_Toolsgalerie_Gudrun Lilja-Studiobility
Green floor
, the second leg of the exhibition circuit, presents, in a first group, Nature re-composed. Here the creators have produced visual subterfuges, segmented landscapes in a sense of irony or taking a critical approach: nature seen through the prism of a world that is gradually losing its markers and being drained of its essence. Far from pure imitation, the works presented here evoke sociological and artistic concerns in terms that differ greatly from those of their Land Art predecessors, for whom earth was a work of art and nature the absolute creative power.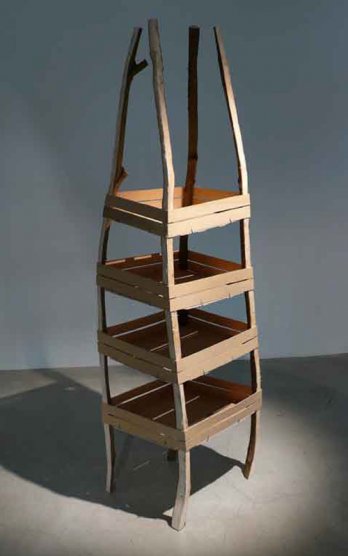 Peter Marigold, Flauna Plain, 2007_Fat Galerie
The second grouping,
Nature constrained
, focuses for its part on the "small garden" – nature in a modest, urban form where creative endeavours are carried on amid cuttings, stakes, vases and inventive containers that take the miniaturisation and conservation of nature into account. Excessive urbanisation has created new scenarios which distance mankind from nature and its forces. The absence and loss of "nature" impel the artist or photographer to envisage an artificial, fetishistic re-creation in which the emotional, "magical" dimension presents an area favourable for irony, for comment. In this modest, restrained kind of nature, fetishes and relics play on the compromise between nature/town.