Nature in a Kit
Nature and its double
Chantal Prod'Hom + Magali Moulinier, July 6, 2009
Tokujin Yoshioka, Bouquet, 2008_Moroso_Alessandro Paderni-Studio Eye
The exhibition takes the form of a dialogue between the natural and the artificial and occupies the entire 400 square metres of the museum set aside for temporary exhibitions. This deliberately binary approach, given the complexity of such a subject, infuses the two major sections of the exhibition:
Nature and its double
takes up the first-floor premises while
Green floor
occupies the ground-floor galleries. The apparent confrontation allows for a continuous coming and going between imitation and original, pretence and authenticity, still-life and organic life; the demarcation line remains deliberately porous, reminding the visitor of possible interactions as well as doubts. Thus other groupings are incorporated in order to cloud the issues of this
NATURE IN A KIT
with hybrid contents and fluid meanings.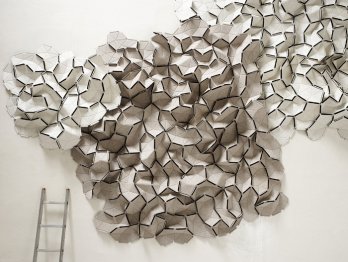 Piero Gilardi, Torrente Secco, 1965_Galleria Biasutti & Biasutti, Torino
Nature and its double
offers a very literal entry into the material through the section
Matter / Materials
, which groups together creations by artists and designers employing the palette of natural elements – primarily plant and wood – in order to extract from them prime forms and functions. Here, contemporary creation is expressed fundamentally in the vast register of natural matter, wood–cane–straw–bamboo, revealing a "primitive", archaic nature via materials in their raw state which deliver forms whose concern is not with style. The chopped-off tree trunk again becomes the archetypal seat, and the plant kingdom sometimes has the air of the ready-made.
Tokujin Yoshioka, Bouquet, 2008_Moroso_Alessandro Paderni-Studio Eye
The section
Imitation / Evocation
is a response to this. A recurrent device in the history of style and ornament, nature today is no longer interpreted in terms of an absolute fascination with original, pure forms, as was the case with Art Nouveau. Present-day design offers an unfettered interpretation via creations based on plant identity but in which artifice is made plain by the use of obviously synthetic materials.
By way of extension, the section entitled
The Forest
offers a sylvan composition made up of uprights, pegs and other racks and stands, varied ad infinitum in all forms of trees and branches against a wallpaper backdrop that is just as illusionistic.