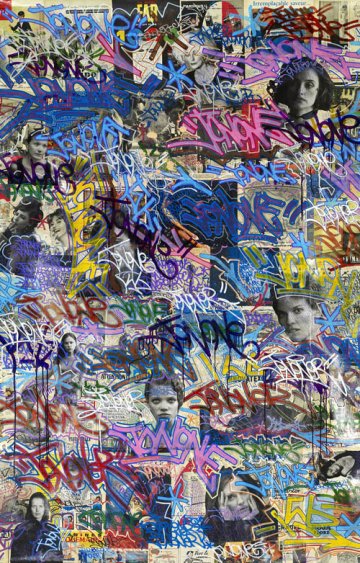 Graffiti
Born in the streets
Linda Chenit, June 29, 2009
Born in the Streets—Graffiti
brings to light the extraordinary expansion of an artistic movement that developed in the streets of New York in the early 1970s to rapidly become a worldwide phenomenon.
Today, graffiti has entered the cultural mainstream, crossing over to the realms of studio art, design and advertising. Yet, despite its immense popularity, this essentially illegal activity continues to evolve at the periphery of the contemporary art world, its origins and history little-known to the general public. This exhibition attempts to sketch the general contours of a subject that is vast and complex, a form of expression that has come to embrace many different techniques, ideas and movements.
Flip One Spraying his name in New York City's underground subway system, 1974_Flint Gennari
Born in the Streets—Graffiti
pays tribute to the early days in New York with pioneers such as P.H.A.S.E. 2, Part 1 and Seen, who, along with many others, ushered the movement into the halls of contemporary art as its influence spread across the globe. It also pays tribute to Jean-Michel Basquiat and Keith Haring who were both, in their own way, born in the streets, but whose careers would ultimately take a different path. Finally, the exhibition will present some of the most brilliant figures on the contemporary scene, including Vitché, Nug, Evan Roth and Barry McGee, reflecting the diversity and complexity of a movement that, somewhere between writing and painting, continues to reinvent itself.
Gérard Zlotykamien_Adagp, Paris, 2009_Thierry Lefébure
In the first part of the exhibition, a presentation of photographs, films and sketches will explore the birth of graffiti in New York City, from its beginnings in the early 1970s to its entry into the art market and the media world in the 1980s. The Fondation Cartier has invited three of the movement's most significant pioneers—P.H.A.S.E. 2, Part 1 and Seen— to create original large-scale wall paintings within the gallery space. Focusing on the importance of documentation in the development of the movement, the exhibition will show how graffiti artists appropriated public space and dynamically transformed their urban environment. Alan Ket (Ket One), a major graffiti artist from New York who has coordinated many publications and shows dedicated to the subject, has served as a consultant for the historical section of the exhibition.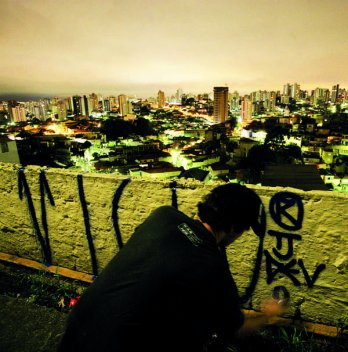 Joâo Wainer Sao Paulo, 2009