The Vitra Campus
Architectural views
Luis Fern�ndez-Galiano, March 16, 2020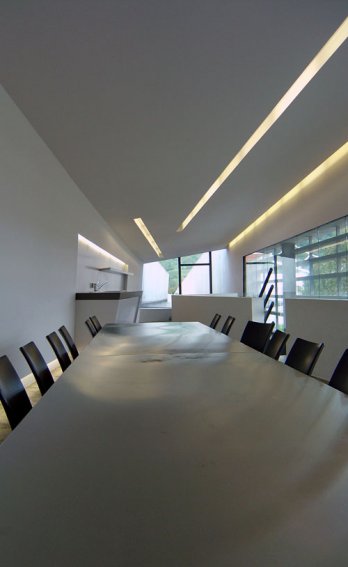 Zaha Hadid_Fire Station, Level Up Interior
Zaha Hadid_Fire Station, Level Up Interior
The Conference Pavilion by Tadao Ando has the characteristic precision of the Osaka architect. The master of concrete and light had not until then had an opportunity to build in Europe, if you exclude the now nonexistent pavilion for the Seville Expo in 1992. For Vitra, he produced a building sunk into the ground, organized around a square inner courtyard sunk into the lawn and consisting of a cylinder and two cuboids linked together elegantly and with calm clarity and beauty. In the same stage of construction, Zaha Hadid also built her very first building – up until then, she had only designed a restaurant interior in Japan. After ten years of continuously being one of the architectural avant-garde, she was suddenly catapulted onto the cover of professional journals as a result of the Fire Station building. On a factory site, which was once destroyed by fire, a building of that kind enjoys great prestige – even though it lost its original function when the fire brigade subsequently moved to the city of Weil and it is now used for exhibitions. The dynamic, explosive construction suggests speed of response by the fire engines while at the same time touching on the incendiary with the violence of its projectile velocity. The inclined, unstable elements of reinforced concrete aptly reflect the Anglo-Iraqi architect's interest in Russian Suprematism – a fondness which she learned from her professor, Rem Koolhaas, at the Architectural Association in London, where Hadid made her home. However, the anti-gravitational construction required the use of so much steel that the concrete covering essentially has no other purpose than to protect the metal against corrosion. For an architect known up to then only for her futuristic drawings of stretched, suspended, geometrical forms who stated that she was convinced that buildings could float, the materialization – contrary to all expectations – of the Vitra Fire Station was a milestone that turned the little building into a very influential work. Like Gehry, she was originally asked by Fehlbaum to design chairs and, like him, she ended up building structures of pivotal architectural influence.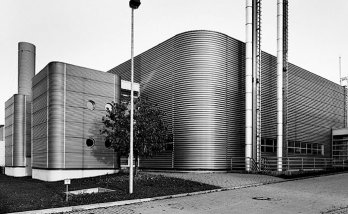 Vitra design museum. Frank O. Gehry_Franck Christen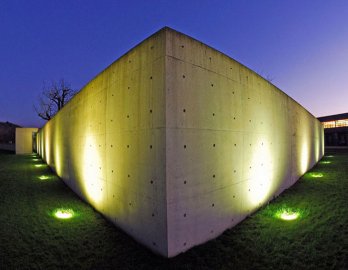 Vitra Lights
These dynamic constructions, which cross cultural and stylistic frontiers, are metaphors for a world undergoing radical change. They represent, on the one hand, the hectic movement of people, towns, information and images which entwine the planet with their vertiginous flows, but they also represent the growing instability and nomadic life that characterize modern economies and society, whose imbalances further precipitate changes and fractures. Gehry's forms in motion and Hadid's accelerated architecture, as well as the expansive, light-footed dynamism of SANAA or the swaying balance in the buildings of Herzog & de Meuron, are architectural explorations of a world in motion, playful structures that can make many people smile while still being serious. Architecture is in motion but, like the world, we do not really know where it is going.
www.vitra.com