The Vitra Campus
Architectural views
Luis Fern�ndez-Galiano, March 16, 2020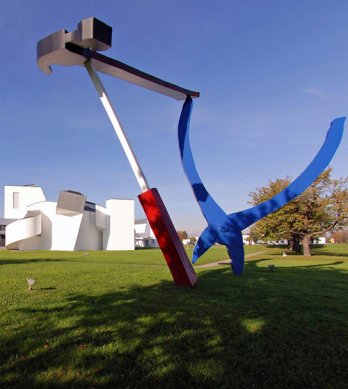 Balancing Tools by Claes Oldenburg and Coosje van Bruggen
After a fire in 1981, the factory area was reconstructed and, in later years, extended with the collaboration of a host of famous architects. The British architect, Nicholas Grimshaw, built the new factory halls in the years after the fire, while the Czech architect, Eva Jiricna, and the Italian, Antonio Citterio, were involved in parts of the rebuilding work. In 1989, Gehry completed the work on a factory hall and the Vitra Design Museum, which was his first work in Europe and the start of an extraordinarily influential stage in his career. Between 1993 and 1994, the Portuguese Álvaro Siza constructed another factory hall, the Japanese Tadao Ando a conference pavilion – also his first work in Europe –, and Zaha Hadid, a fire station, her very first building after coming to fame by winning first prize in the "Peak Leisure Club " competition in 1982. In later years, the site was extended with the creation of a number of smaller buildings – a dome-shaped tent construction by Richard Buckminster Fuller, a petrol station by Jean Prouvé and a bus stop by Jasper Morrison. In 2006 work was begun on two further constructions – to be completed in 2009. One, an unusual round factory building with loading ramps all around it where transport vehicles can be docked, designed by the Tokyo-based studio, SANAA (Kazuyo Sejima and Ryue Nishizawa). In addition to this, Herzog & de Meuron designed the VitraHaus, a large showroom for products in the Vitra Home Collection, which combines typical motifs found in their latest creations, such as the classic pitched roof and a stacking of forms. Including the Swiss practice, five architectural studios that have been awarded the prestigious Pritzker prize are now represented on the Vitra Campus; the significance of this lies in the fact that in all cases, apart from the last one, the works were commissioned before the prize was awarded – a clear indication of Fehlbaum's nose for talent.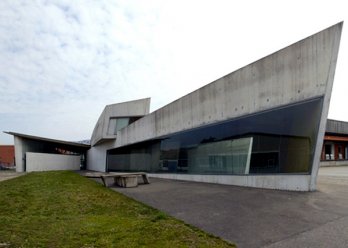 Fire Station by Zaha Hadid
Even without taking into account Vitra's other buildings – Antonio Citterio constructed another factory building in the German town of Neuenburg and Frank Gehry designed the Vitra Center in the Swiss town of Birsfelden, near Basel –, the buildings at Weil am Rhein form such an unusual and cosmopolitan concentration of architecture in their brilliance and novelty that they were immediately included in the architectural tours of the area, already important because of its proximity to Le Corbusier's Notre-Dame-du-Haut chapel in Ronchamp and because of the Goetheanum by Rudolf Steiner in Dornach. Before taking over the family business, Rolf Fehlbaum completed a doctorate with a thesis on the utopian socialist, Saint-Simon – an aristocrat in Napoleonic times who was an advocate of the new religion of industry. With such worship of science and technology, Fehlbaum must have felt inspired.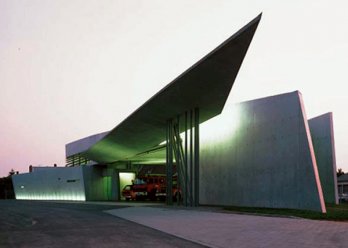 Fire Stationby Zaha Hadid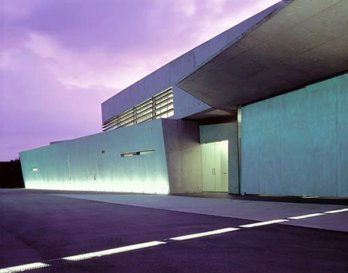 Fire Stationby Zaha Hadid