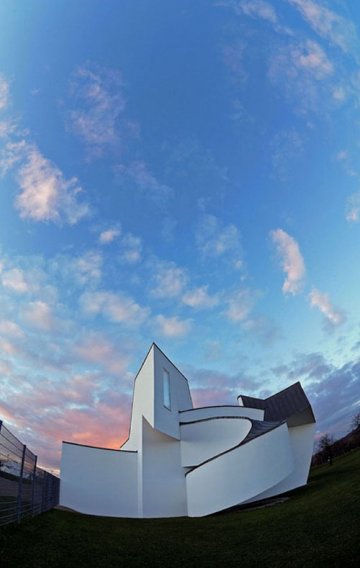 The Vitra Campus
Architectural views
Luis Fern�ndez-Galiano, March 16, 2020
Vitra design museum. Frank O. Gehry_Franck Christen
Serious games… by L.F.G.*
*Luis Fernández-Galiano is an architect and professor at the architecture academy of the Universidad Politécnica in Madrid. He is active as a guest professor at numerous universities in Europe and the United States, as a jury member in many major competitions (for example, Venice Architecture Biennale, 2002), as a curator and author, and as the editor of the magazines "AV Monografias" and "Arquitectura Viva".
The
Vitra Campus
is a playing field – but for serious games. An industrial park in the heart of Europe does not at first sight appear to be the appropriate place for risk architecture; however, both technical innovation and artistic exploration are aspects of a desire to experiment that has resulted in an amazing collection of signature architecture in Weil am Rhein. From the dynamic forms of the Vitra Design Museum by the Californian Frank Gehry or the rushing forms of the Fire Station by the Anglo-Iraqi architect, Zaha Hadid, to the latest projects by the Japanese Kazuyo Sejima and Ryue Nishizawa, or the Swiss Jacques Herzog and Pierre de Meuron, major world architects have helped to turn the dream of the entrepreneur and collector, Rolf Fehlbaum, into reality by creating a site near Basel that is committed to experimentation and artistic excellence.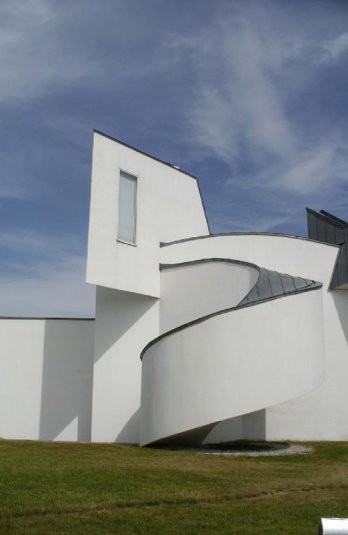 Vitra Design Museum, Weil am Rhein, Frank O. Gehry
In Sydney Pollack's documentary on Frank Gehry, musician Bob Geldof, lost in thought, talks about being thunderstruck by the fleeting glimpses of the dancing forms of the Design Museum, his vision groggy with tiredness and the steamed-up glass of his tour bus, and this sensation of sudden discovery has struck visitors to the Campus ever since Gehry completed his most emblematic work in 1989. The year in which the Berlin Wall fell was also the year Vitra entered the history of architecture: this was the year in which "Arquitectura Viva" first dealt with the Campus, and the year in which I first heard admiring reports of the most forward-thinking pioneers who were on a pilgrimage to Weil am Rhein, while I was living in Los Angeles as a Visiting Scholar at the Getty Center.