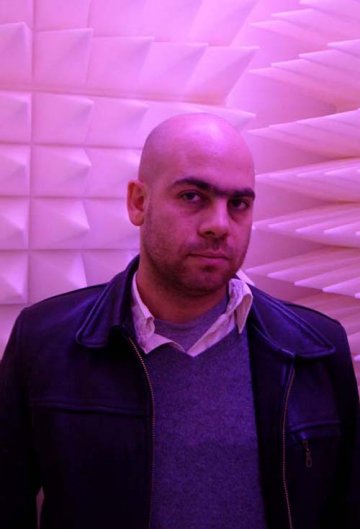 Laurent Grasso
THE HORN PERSPECTIVE
Isabelle Danto, August 9, 2010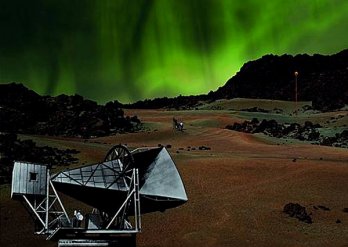 Laurent Grasso/H.Antenna
In less than a decade, employing a variety of media and techniques, Laurent Grasso has produced a distinctive body of work that unsettles the viewer's certainties. In Tout est possible [Anything is Possible] (2002) we overhear the inner thoughts of a man walking the streets, haunted by ghosts and extraterrestrials. In Radio Ghost (2004) we float above Hong Kong, listening to stories of real-life encounters with ghosts. 1619 (2007) presents us with an artificial aurora borealis, while Éclipse (2006) seemingly offers documentary images of an exceptional event: an eclipse at sundown. Untitled (2003-05) is a long travelling shot retreating before a mysterious cloud's advance through the streets of Paris.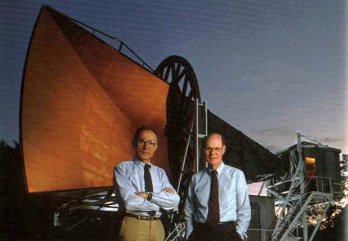 Laurent Grasso/H.Antenna
Grasso's poetics belong to a new age of suspicion. The world supposedly made transparent and comprehensible by rationalism, positivism, scientific progress and technological development is rendered once again opaque and mysterious. This is an art that plays with the idea of a hidden or absent meaning. If science provides the artist with some of his objects and motifs, it is far from being the only source. Likewise, while Grasso interests himself in paranormal phenomena, he does not believe in ghosts or spirits. Auroras and solar eclipses are far from entirely occupying his days and nights,
Horn Antenna at Holmdel Township, New Jersey, 1965
while the global surveillance of telecommunications and the multiple universes postulated by string theory are no permanent obsessions. If his art makes use of ghost stories or of the most unlikely scientific facts, this is partly to create works that a more restricted imaginary would not have supported, but more fundamentally in order to resist the ideal of transparency projected by a society of communication and surveillance.
For Grasso, strangeness, mystery and hidden meaning are not only to be found at military bases or in extraordinary scientific phenomena. He can equally make us feel them in a simple film of starlings in the Roman sky, or as the camera wanders the studios of Cinecitta, amid the deserted sets of Gangs of New York.
Science and paranormal are not of interest in themselves, but simply the means by which Grasso's art seeks to bring about a significant aesthetic shift: the end of the modernist paradigm of transparency.